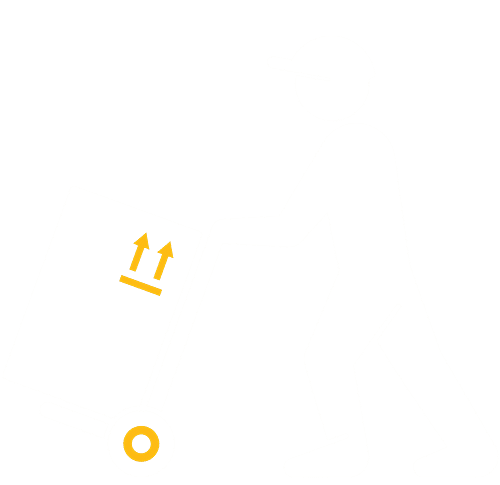 Get anything sent, moved or delivered by a Yellow Express man & big van.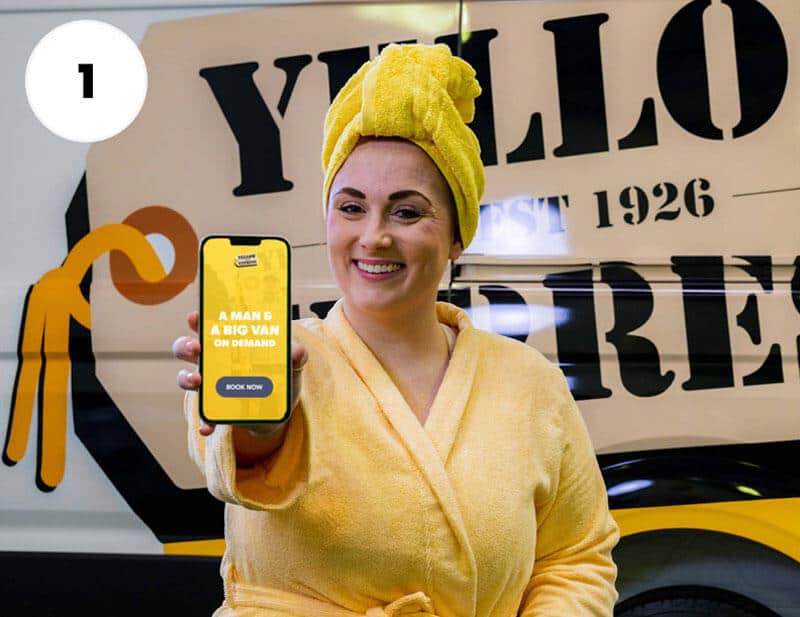 At the tap of our app, book a big van quicker than you can say "wow I can't believe I never knew about Yellow Express".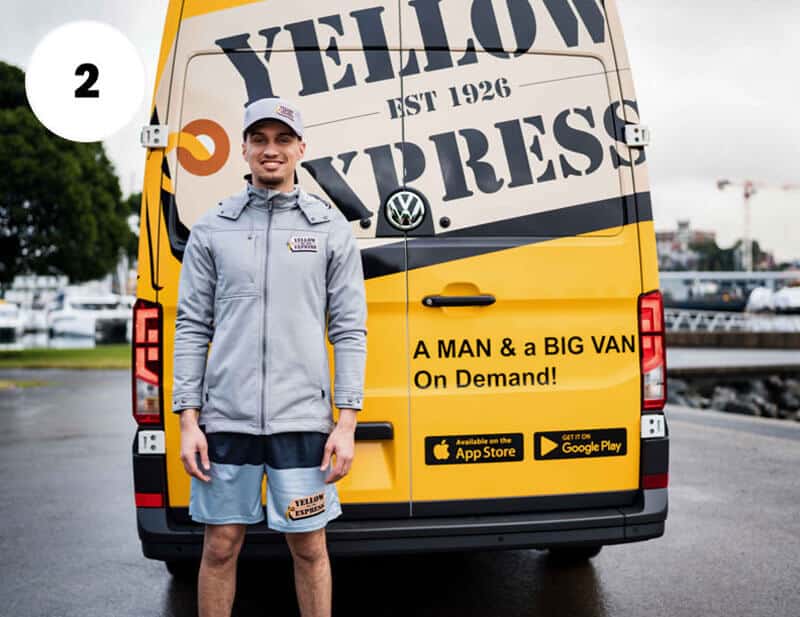 Get acquainted with your same day courier hero, a fully-trained legend in the art of Send, Move and Deliver.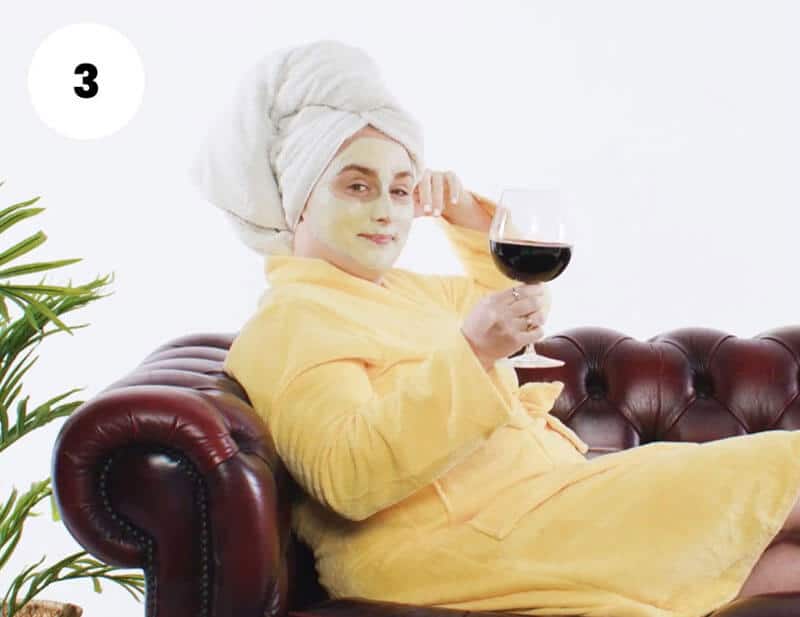 Have the snacks and tv remote ready. That's all the lifting you've got left to do.
SAY GOODBYE 👋 TO DIY AND CYA 💋 TO HIGH PRICES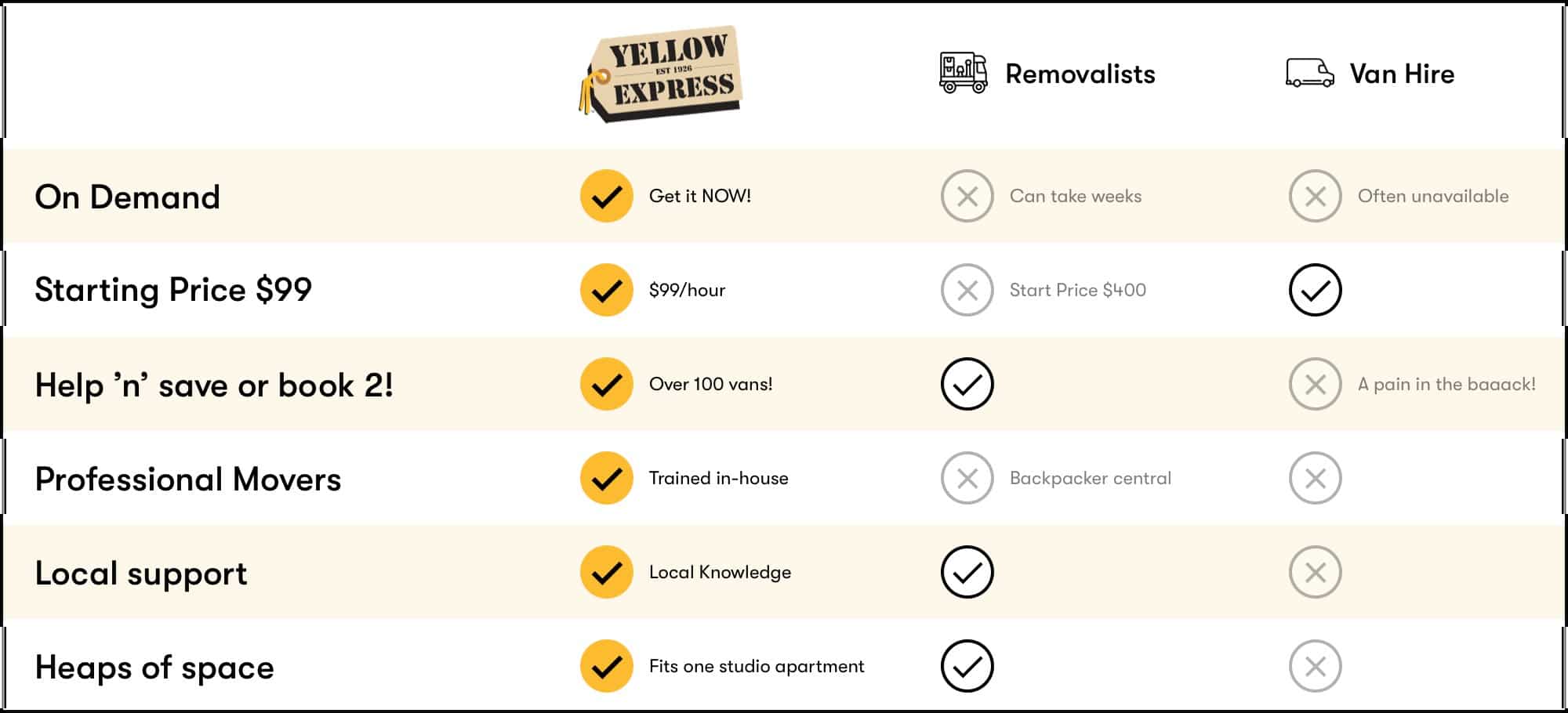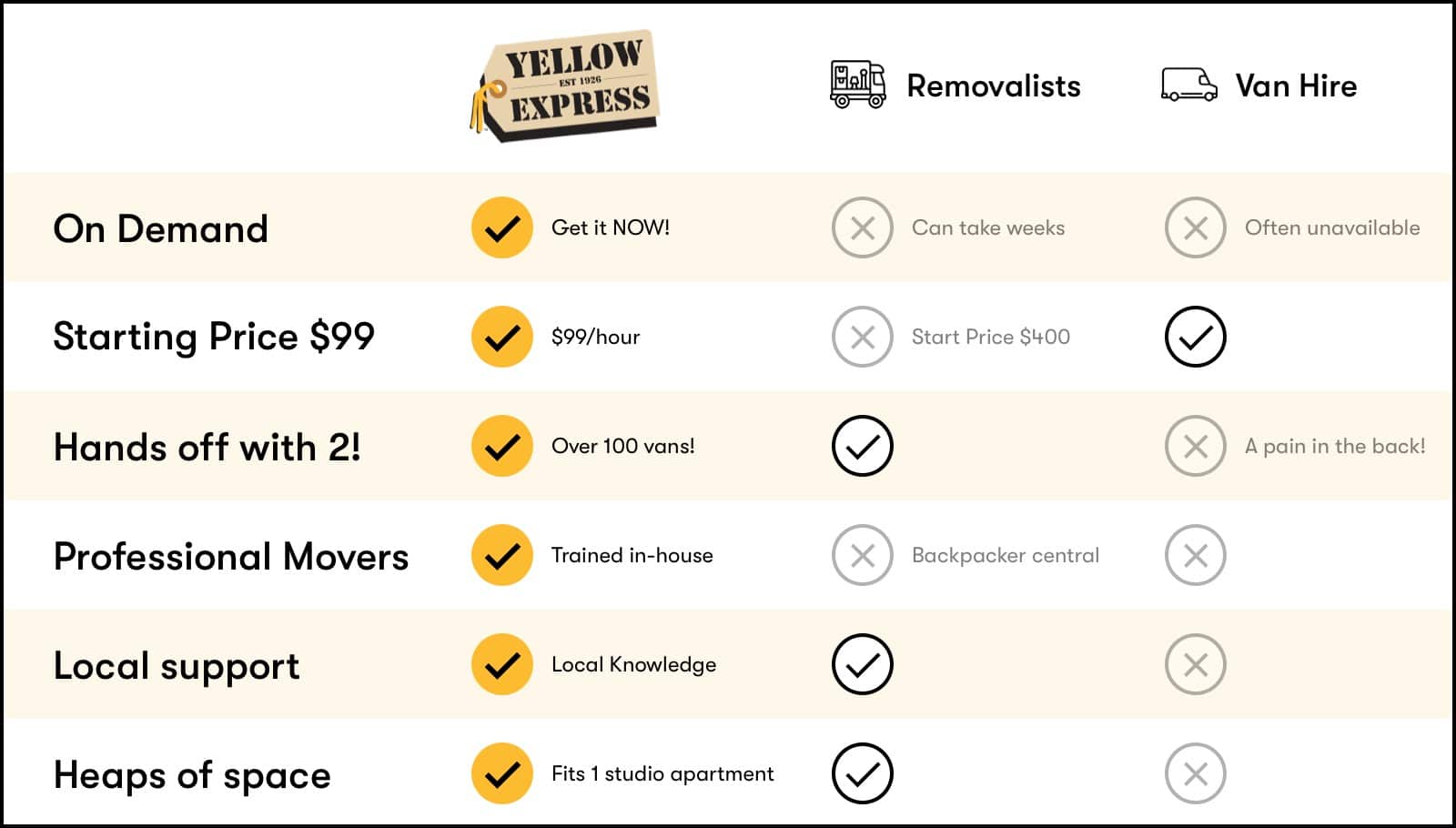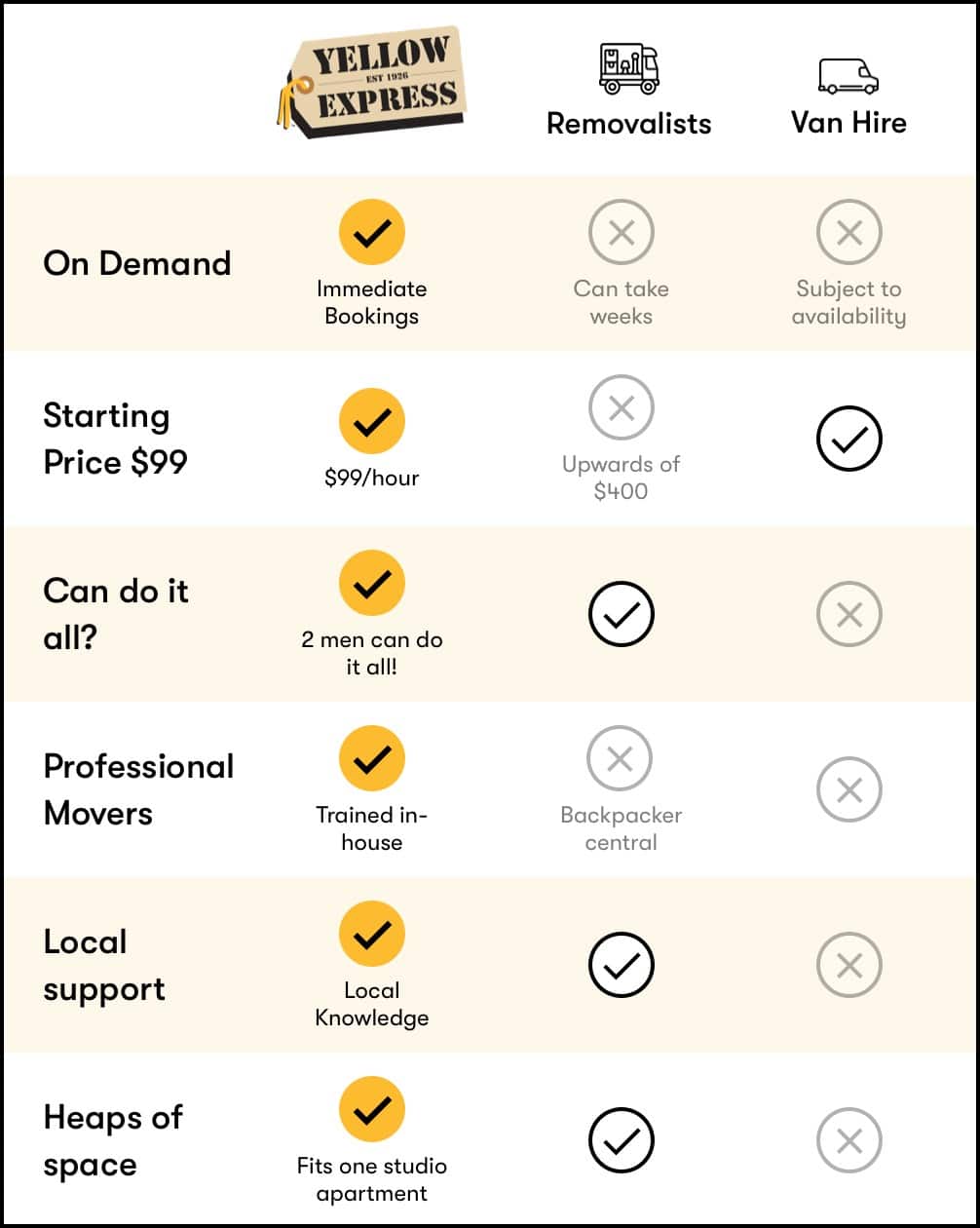 AND SAY ILY 💘 TO THESE PRICES*
*Real prices from jobs we've completed
Jane moved two tables from Bondi to Ultimo for $149 in 85 mins
Peter moved a plasma TV from Broadway JB Hi Fi to Auburn for $99 in 43 mins
ONCE YOU SPOT OUR VANS YOU WON'T BE ABLE TO STOP
We've been a fast courier in Sydney since 1926. Throughout the years, we've built quite the fleet! Now that you know about us, you'll recognise our vans everywhere!
WHAT FITS IN OUR BIG VANS
Our "Big Vans" are MASSIVE, much bigger than your traditional same day couriers across Sydney. They can fit pretty much anything inside, we've even moved whole studio apartments in one load… just imagine the possibilities.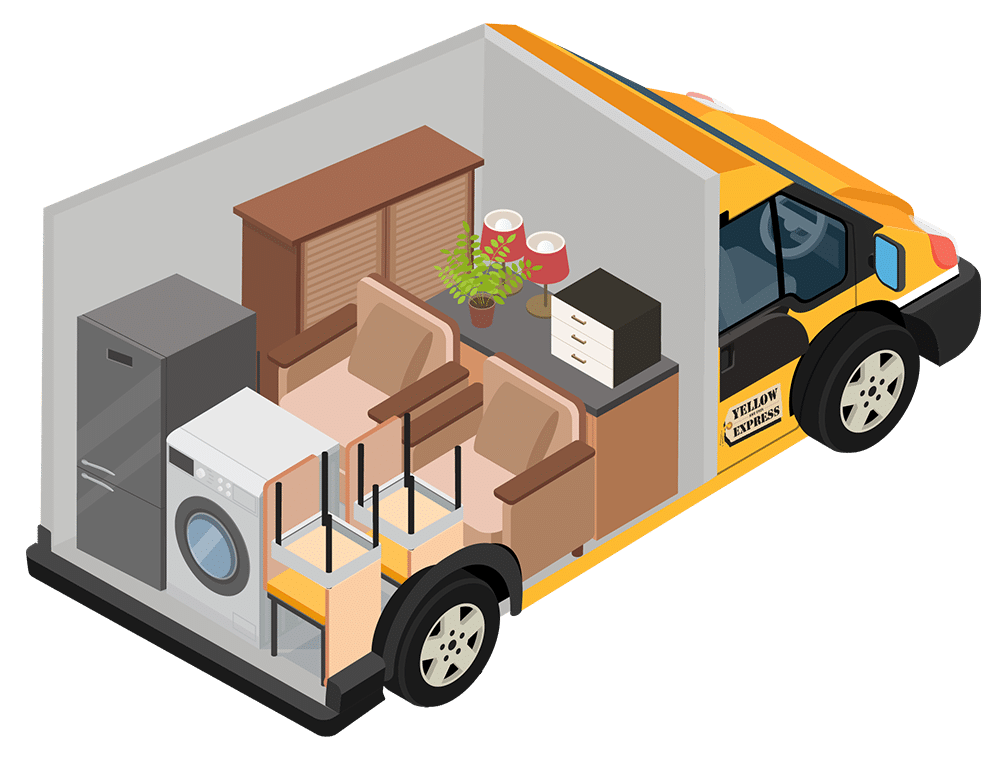 Paul Goff
15. July, 2023.
Second time of using Yellow Express for a local pick and drop. Awesome team. Mo Number 1 was super helpful. Even helped me put my sofa in place and put it all together. Friendly team, efficient and altogether A1 with extra stars. Booked a van at 12pm and had a pick up by 1430!!
Peter George
13. July, 2023.
Another quality job from Yellow Express. No mess, no fuss, just get on with it and get it done. Very happy – I left the team a 15% tip
Abdullah Khan
6. July, 2023.
Love 😍
Rosemary Ghobril
4. July, 2023.
Yellow Express and their drivers provide excellent service. I had a wonderful and efficient driver who assisted in loading and unloading my items. They were prompt, affordable and extremely professional. I recommend Yellow Express for any of your transport needs.
I used Yellow Express to move stuff into my new apartment. Had the pleasure of working with Dean who was very easy-going. We ended up moving more than what I initially planned and he had no complaints. He was very fun to chat with and very efficient which made the move a rather enjoyable experience. Thank you Dean. To avoid disappointment, take note that the time you specify may not be the exact time that the operator will arrive. It would depend on who is near the area and how many jobs are queued. Recommend to discuss in advance with the very friendly support team if you have a strict timeline.
I recently moved out and needed assistance picking up furniture from various places, and Yellow Express was the exact solution that I needed. I was already impressed with their service through their email correspondence and phone calls, but was genuinely surprised at how friendly and supportive everyone was. Dean was my driver for both my bookings and he went above and beyond to transport my furniture goods (sofa and dining table) with care, was extremely efficient with timing and very friendly – thanks Dean! Definitely will be using Yellow Express/Dean for all the random tasks I will need moving forward 🙂
Joseph Thannheiser
27. June, 2023.
Booked a man and a van service for what I thought would be a quick two hour job… Turned out to be 5 hours total, luckily had the amazing assistance from Dean and the time just flew by!
Fiona Cummins
26. June, 2023.
Tom in the office was fantastic, he even managed same day delivery. We phoned after 1pm with delivery from inner Syd to Illawarra by 5:30pm. Ali, the driver, was so polite and helpful. Great operators, will use again and recommend them.
Donna Shenton
25. May, 2023.
After much frustration trying to find same day delivery I found Yellow Express. Made a call and spoke to Thomas who without any effort and such ease took our details and the parcel was collected and delivered as promised. I have the APP on my phone as well. Couldn't be happier. Donna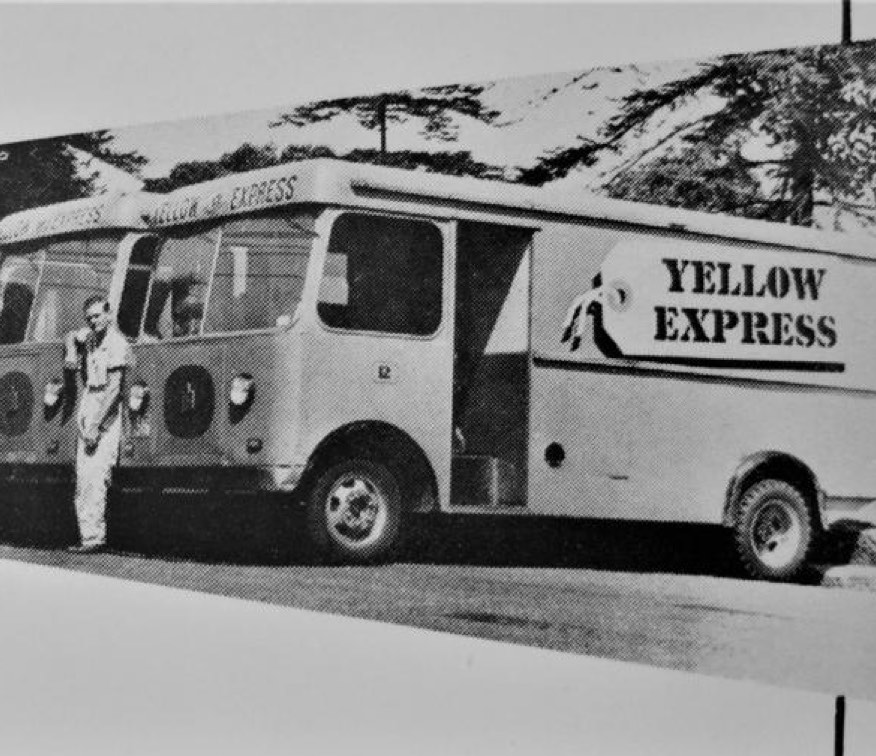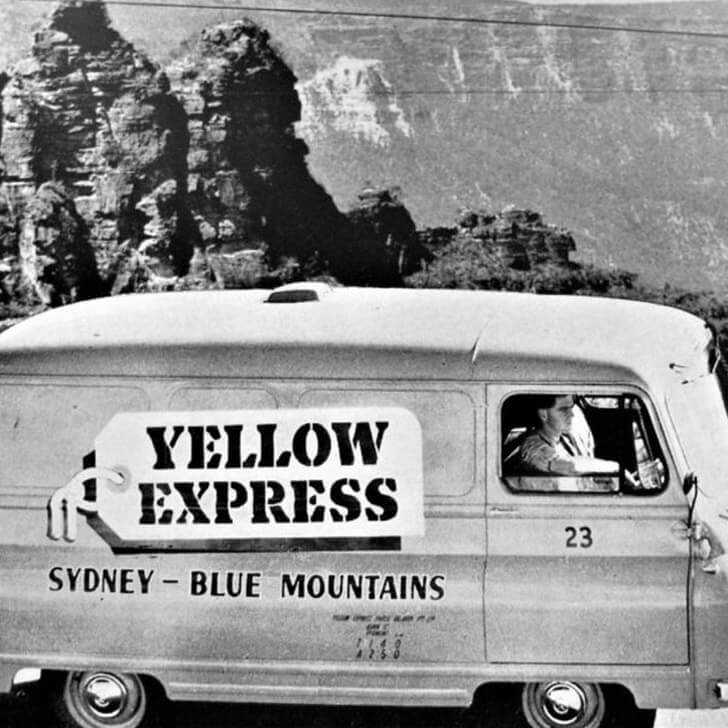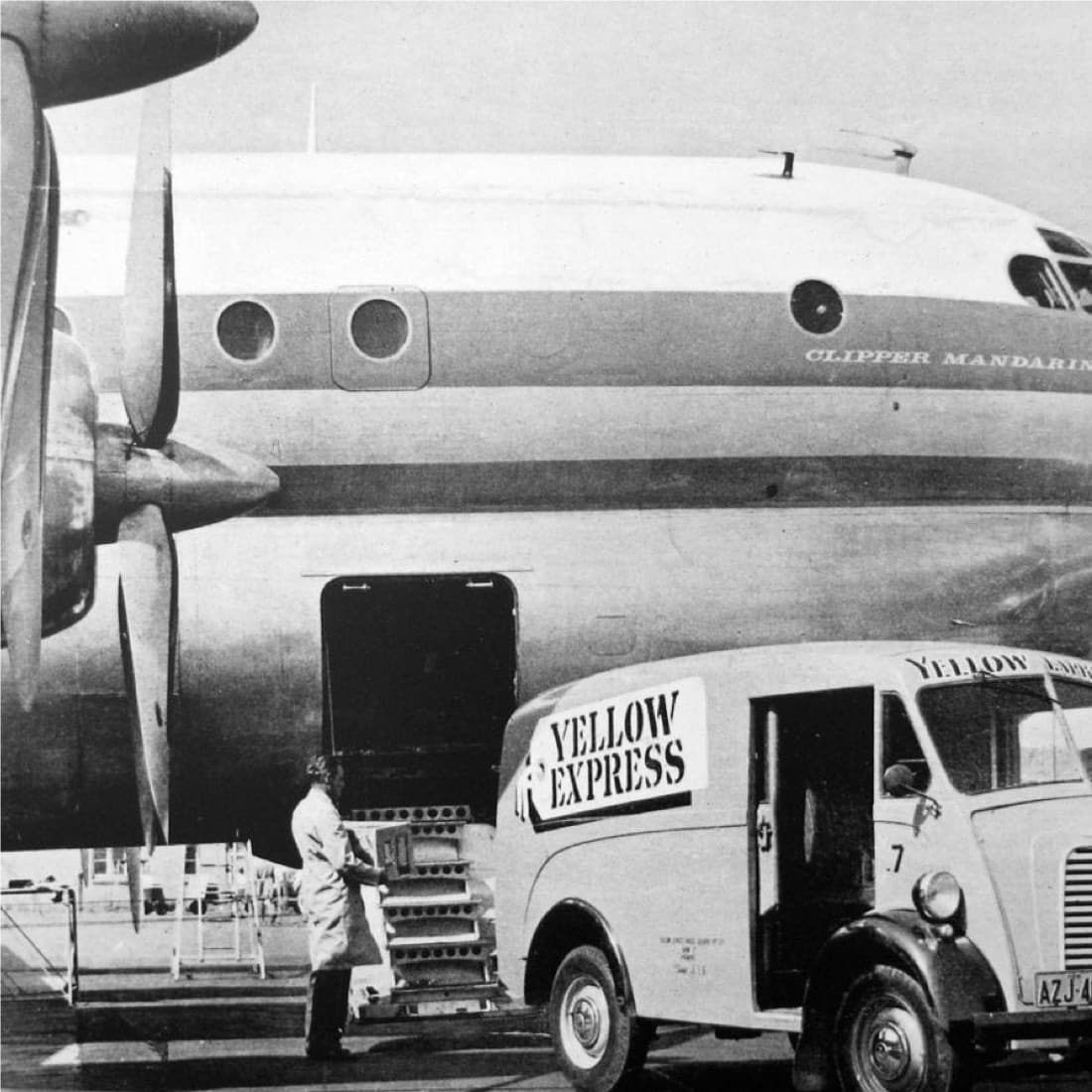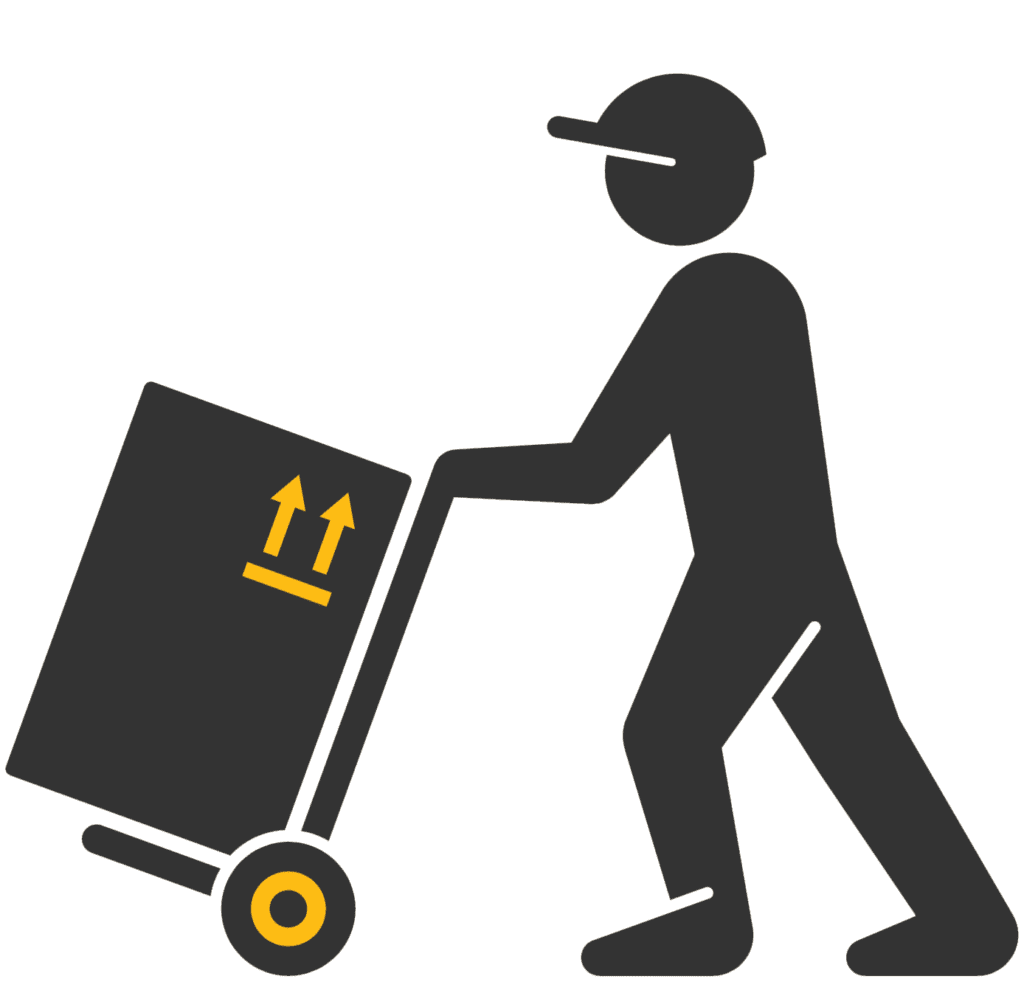 Local people, local knowledge
Yellow Express is the BIG VAN specialists. Helping Australians Send Move & Deliver since 1926! Kinda like Vegemite on Wheels. 😉 We've helped with the Sydney Harbour Bridge, The Southern Cross, The Sydney Cenotaph & The Henry Lawson Monument… You don't hear many courier Sydney teams claiming those feats!
WE TOP IT OFF WITH TOP-NOTCH BLOKES​
Every Yellow Express operator completes a comprehensive recruitment and training program.
Why? So you get an operator who consistently offers impeccable customer service, treats your items with respect, and knows where they're going.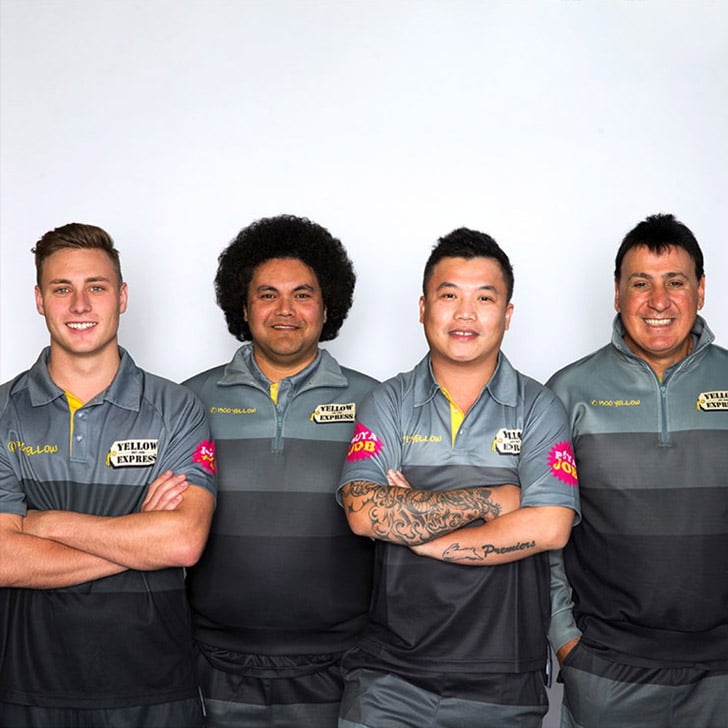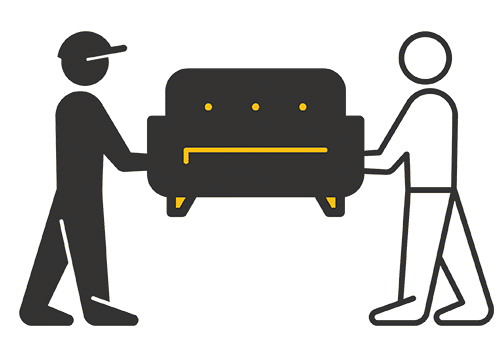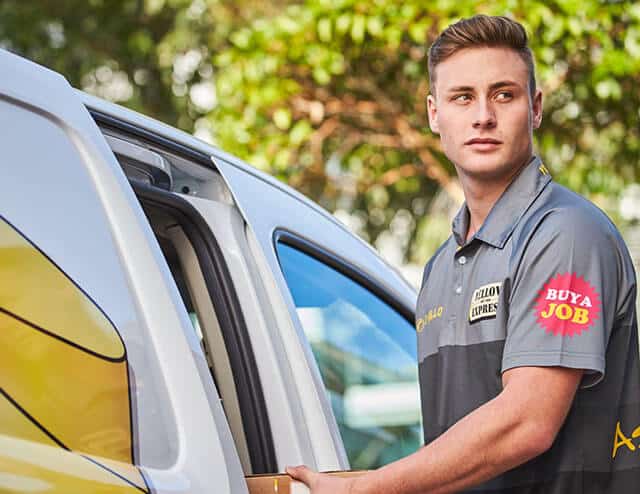 We are ready for your job!
Unlike the standard same day couriers, who promise they're fast couriers yet charge you ridiculous premium fees, we've got blokes sitting in their vans ready to deliver your item right now – at a fraction of the cost!
While they'll claim they're the best courier Sydney has to offer, we say no courier delivers it better than our lads in yellow.
Need to get something delivered across town instead? Well take your fingers off keyboards and phones, because all those 'fast couriers' advertised online are only good for disappointing you! Partner with the same day courier team who started with one van nearly a century ago and have been kicking goals ever since – Yellow Express!
WE'RE JUST BLOKES LENDING A HAND
We realise moving is a pain in the you know what. It's time consuming, stressful and can be costly.
That's where our Delivery Service Operators (DSOs) make moving feel less like a headache. Our guys are trained to be in-and-out of 1 bedroom and studio apartments quickly and without drama. It's just like asking your buddy or cool neighbour to lend a hand, except we bring along a big van!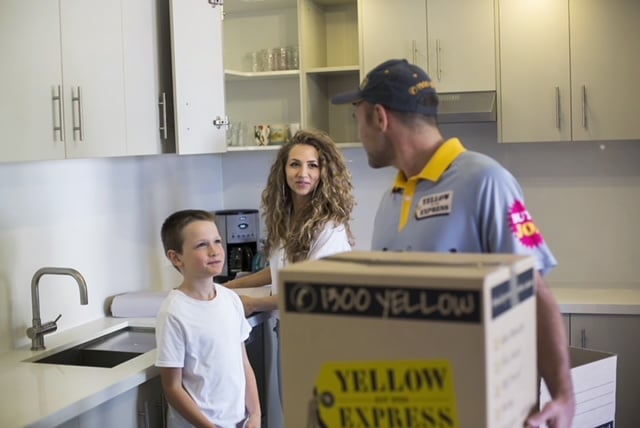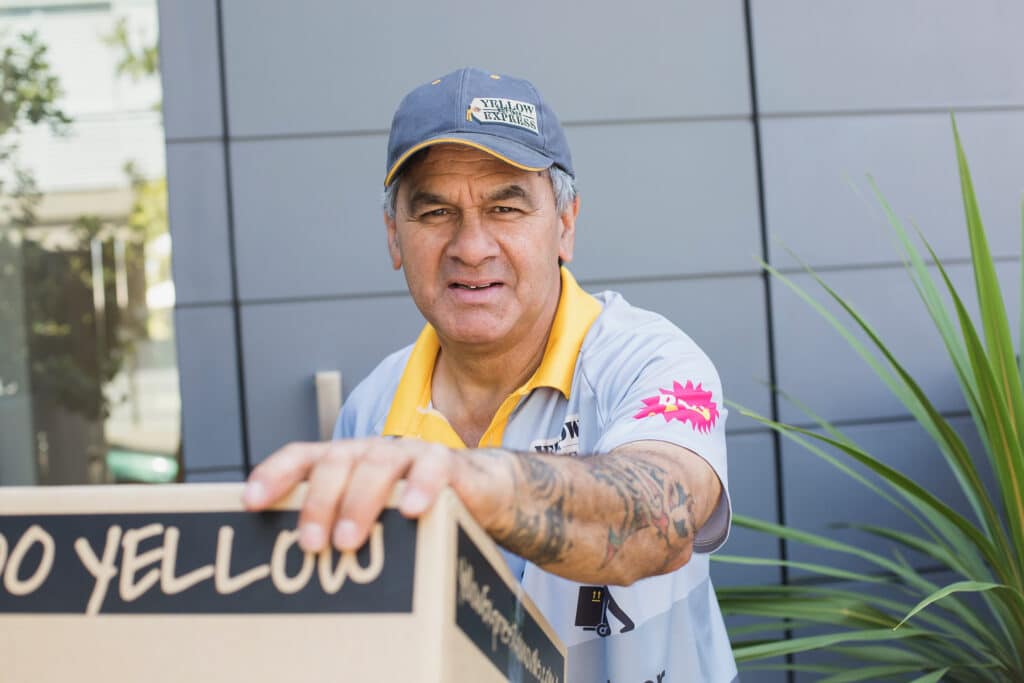 The same goes for when you need to transition your workspace to a different office. You could hire generic office movers.
Sure they get the job done, but they don't give a flying f*** about your hectic schedule. They only care about taking their sweet time, as well as your coin. Skip the stress, and book the help of this friendly chap.
These are some of the notable brands we work with... just to name a few.
Heard of these guys before – Porsche, Emirates, Ray White?
They've all used courier Sydney services in the past in the hope they'd conveniently and affordably transport their packages. The result? Red faces 😡 over how slow these so called 'fast couriers' got to their clients.
Don't risk a same day courier with only 2-star reviews online. Book the man & big van delivery service that the big businesses trust, Yellow Express!