Someone say van hire? Didn't think so
Think hiring a van sounds all peachy? Picture this – glorious day, but there you are, lugging hefty gear into a van hire like you've signed up for an eternity at a torture gym. They're all, "Alright, here's the van, now knock yourself out playing weightlifter with your stuff!"
Enter Yellow Express! Van hire is so yesterday. With us, it's all about kicking back and letting someone else do the heavy lifting. We roll up with a strapping lad and a hulking van, ready to whisk your goods away without lifting a finger. Same day delivery? No worries, we're on it—no more weightlifting woes-just a speedy, breezy bliss with Yellow Express. Catch you on the no-lift side!
So, ditch the old-school rental rigmarole and jump on the Yellow Express train (or, err… van). It's faster, easier, and no gym membership required!
Is an urgent document or valuable package on hand? Left something behind? No worries! Yellow Express, your superior alternative to a courier in Sydney, has you covered. We'll handle your needs professionally, delivering even on the same day. Experience the thrill of rapid delivery done right by Yellow Express.
OUR VANS ARE THE KINGS OF SYDNEY
Yellow Express is here to zap your send, move, deliver woes into oblivion. Got a heap of treasures to haul? Need to zip a last-minute gift across town? Or have a VIP document that's gotta be somewhere, like, yesterday? Say, Hello! to Yellow Express! Our armada of over 50 nifty vans is cruisin' Sydney, ready to dive in for a pick-up quicker than a kangaroo on a trampoline. We're the caped crusaders of the courier world. Forget van hire. That's like bringing a donkey to a racehorse track. Yellow Express is your superhero – with wheels – turning your moving tragedies into cool, breezy fairy tales.
Why would you even look at van hire and get all huffy-puffy loading stuff yourself? Yellow Express is out there like stealthy ninjas on the streets of Sydney, and our drivers? They're smooth operators making things happen without you breaking a sweat. So, give the whole van hire malarkey a miss, and glide through life with the zippy charm of Yellow Express. No sweat, no fuss – just swift, enchanted delivery sorcery. Keep it cool – choose Yellow Express!
LIGHTNING-FAST, SAME-DAY DELIVERY!
Where other van hire guys take the leisurely, scenic route like they're on a Sunday drive, we're popping on the turbo and gunning it for same-day, hold-on-to-your-hat delivery! Yellow Express is a thrill-seeking daredevil of the delivery world! Your package? It's on an express rocket – no faffing about! Got a wild request? Bizarre, loopy, or downright zan; bring it on; we'll crank up the thrusters and make it happen at light speed!
If you're considering the van hire path, prepare for an odyssey. Going that van hire route is like accidentally enrolling in an obstacle course. Drive, lift, grumble, repeat. They're trickier than a Rubik's cube – where's the bloomin' van? Is it pick-up or drop-off? Does a helper tag along, or am I flying solo? And what's with the paperwork? Driver's license, passport, credit card, and what, a firstborn for good measure? Cool, cool. Oh, and heads up – it's a stick shift, so best brush up on your gear-grinding skills, hotshot.
Nah, skip the van hire madness. With Yellow Express, it's pedal to the metal for the slickest, most hypersonic delivery in town!
ZIP AWAY WITH YELLOW EXPRESS INSTEAD!
With traditional van hire, your brow's soaked before you even get started. It's like they handed you a flat-pack furniture kit with no instructions. But Yellow Express? We're talking fairy godmother vibes – a little swish and abracadabra, your loot's transported. Nobody's batting an eye, and you're sprawled on the couch, binging the latest series.
Sure, van hire is an option if you fancy starring in a high-octane blockbuster – all stunts performed by YOU (dun dun dun!). But if smooth sailing on a yacht of chill is more your style, Yellow Express is the first-class ticket to Effortlessville.
Paul Goff
15. July, 2023.
Second time of using Yellow Express for a local pick and drop. Awesome team. Mo Number 1 was super helpful. Even helped me put my sofa in place and put it all together. Friendly team, efficient and altogether A1 with extra stars. Booked a van at 12pm and had a pick up by 1430!!
Peter George
13. July, 2023.
Another quality job from Yellow Express. No mess, no fuss, just get on with it and get it done. Very happy – I left the team a 15% tip
Abdullah Khan
6. July, 2023.
Love 😍
Rosemary Ghobril
4. July, 2023.
Yellow Express and their drivers provide excellent service. I had a wonderful and efficient driver who assisted in loading and unloading my items. They were prompt, affordable and extremely professional. I recommend Yellow Express for any of your transport needs.
I used Yellow Express to move stuff into my new apartment. Had the pleasure of working with Dean who was very easy-going. We ended up moving more than what I initially planned and he had no complaints. He was very fun to chat with and very efficient which made the move a rather enjoyable experience. Thank you Dean. To avoid disappointment, take note that the time you specify may not be the exact time that the operator will arrive. It would depend on who is near the area and how many jobs are queued. Recommend to discuss in advance with the very friendly support team if you have a strict timeline.
I recently moved out and needed assistance picking up furniture from various places, and Yellow Express was the exact solution that I needed. I was already impressed with their service through their email correspondence and phone calls, but was genuinely surprised at how friendly and supportive everyone was. Dean was my driver for both my bookings and he went above and beyond to transport my furniture goods (sofa and dining table) with care, was extremely efficient with timing and very friendly – thanks Dean! Definitely will be using Yellow Express/Dean for all the random tasks I will need moving forward 🙂
Joseph Thannheiser
27. June, 2023.
Booked a man and a van service for what I thought would be a quick two hour job… Turned out to be 5 hours total, luckily had the amazing assistance from Dean and the time just flew by!
Fiona Cummins
26. June, 2023.
Tom in the office was fantastic, he even managed same day delivery. We phoned after 1pm with delivery from inner Syd to Illawarra by 5:30pm. Ali, the driver, was so polite and helpful. Great operators, will use again and recommend them.
Donna Shenton
25. May, 2023.
After much frustration trying to find same day delivery I found Yellow Express. Made a call and spoke to Thomas who without any effort and such ease took our details and the parcel was collected and delivered as promised. I have the APP on my phone as well. Couldn't be happier. Donna
DITCH THE DRAMA;
TAKE THE YELLOW ROAD!
Ever had that "Oh, crikey!" moment when you've gotta bolt something across town like a bat outta hell? Like returning a borrowed chainsaw or snagging that beast of a 4K TV for game night? Whatever's got you in a scramble, Yellow Express has your back, like a superhero with a van! We are no courier; we're the turbo-charged, send, move, deliver wizards you never knew you needed!
Now, picture going mano-a-mano with a traditional van hire for the same mission. You're against the clock, sweating bullets, and on the verge of a meltdown. Tussling with van hire feels like squaring off with a feisty roo. Choose van hire, and you're the lone ranger, cowpoke. Seriously, the sheer thought of wrestling Sydney's maze-like streets in a rental van could make your love life file for divorce!
So why play handy Andy, when Yellow Express can be your own personal Flash – zipping your goodies with panache and velocity?
Jane moved two tables from Bondi to Ultimo for $99 in 43 mins
Peter moved a plasma TV from Broadway JB Hi Fi to Auburn for $149 in 85 mins
Lisa moved her studio apartment from Camperdown to Newtown for $297 in 143 mins
Chris moved a large artwork from Parramatta to Camden for $149 in 90 mins
WHY CHOOSE YELLOW EXPRESS
Need a gentle nudge to see why Yellow Express totally upstages any other courier in Sydney, including the van hire scene? Check out our rockstar trio:
Speed-Demon Swag: We're like The Flash if he drove a van. Zipping and flipping, ensuring your prized possessions hit their mark quicker than you can snap your fingers and say "van hire" thrice without tripping up!

ShapeShifting Ninjas: Got a breadcrumb or an elephant to move? Flexibility's our stage name! We're decked out for whatever bananas request you're serving up. A traditional van hire might collapse like a soufflé, but we're like, "Bring it on!"

Ironclad Trustiness: Our word is like a sacred superhero pledge – tougher than titanium. We don't just tiptoe to your expectations; we do a backflip over them. With van hire, you're the captain of your own ship (sans crew). With us, you're soaring on Aladdin's carpet.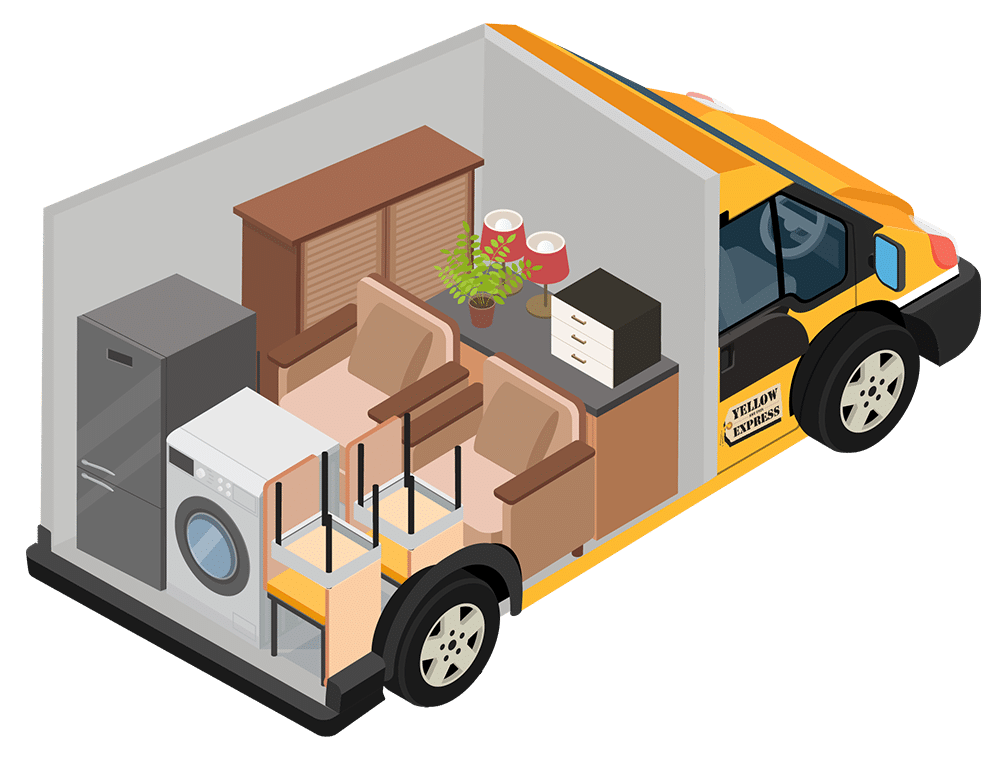 Think of van hire as a flat-pack adventure – batteries (and sanity) not included. Yellow Express, though? We're talkin' the platinum, all-singing, all-dancing VIP treatment. Our as-fresh-as-morning-dew approach to each customer's quirky needs and fancies turns what could be a snooze-worthy transport affair into your cloak of invincibility.
Hop aboard Yellow Express, and let's conjure up some wizardry together! Give us a call and speak to a real human. Yes and based right here in Australia too!