Moving Boxes of All Sizes? Yellow Express Has Got You Covered!
Pondering a move and surrounded by items ranging from trinkets to treasures? Yellow Express is here to save the day with moving boxes of all sizes! We understand the science behind perfectly packing possessions, which is why we offer an array of moving boxes to suit your every need. Whether you are relocating a cozy studio or setting sail from a spacious apartment, Yellow Express ensures your possessions are cradled like royalty.
Is an urgent document or valuable package on hand? Left something behind? No worries! Yellow Express, your superior alternative to a courier in Sydney, has you covered. We'll handle your needs professionally, delivering even on the same day. Experience the thrill of rapid delivery done right by Yellow Express.
OUR VEHICLES ARE THE KINGS OF SYDNEY'S ROADS
Yellow Express is your magic wand for your send, move, deliver needs. Do you have a plethora of moving boxes? Perhaps an urgent gift or a vital document that needs to be delivered yesterday? Yellow Express is your saviour! Our armada of over 50 suave vehicles is on patrol in Sydney, prepared to sprint to your location at the speed of light. Yellow Express is your gallant steed, morphing logistical hurdles into triumphant quests.
Why suffer through the struggle of lifting and lugging moving boxes when Yellow Express cruises like a stealth jet through Sydney's streets? Our drivers are akin to ninjas, making the impossible happen without a drop of perspiration on your brow. With Yellow Express, breeze through life with the electric finesse of moving boxes as if they were feathers. No stress, pure elegance – agile, enchanting courier brilliance. Keep it stylish – go for Yellow Express!
VERSATILITY IN MOVING BOXES – OUR SPECIALTY
At Yellow Express, we pride ourselves on our versatility in handling moving boxes of all sizes. Got delicate heirlooms or bulky furniture? Worry not:
Small Boxes: Ideal for books, files, or your cherished collectibles. Our small moving boxes ensure that your delicate items remain snug and secure.

Medium Boxes: Need something bigger? Our medium moving boxes are perfect for packing away your kitchenware, electronic gadgets, or that stack of vinyl records you adore.

Large Boxes: For the kings and queens of the household – your furniture! Our large moving boxes can handle everything from your comfy armchair to the elegant dresser.

Custom-Sized Boxes: Odd-shaped artwork or a grandiose mirror? We also offer custom-sized boxes to ensure that even the most uniquely shaped items are packed safely.
EXPERT ADVICE ON PACKING AND MOVING BOXES
Yellow Express, brings expertise to your doorstep. Our moving maestros are here to offer guidance on how to efficiently pack your things, irrespective of their size. From the art of layering to mastering the box-Tetris, we ensure your move is as smooth as silk.
SWIFT AND SAFE DELIVERY
When it comes to moving, time is of the essence. At Yellow Express, speed and safety walk hand in hand. With our fleet of ultra-modern vehicles, we guarantee that your gear, no matter the size, will be delivered to your new abode with precision and punctuality.
Paul Goff
15. July, 2023.
Second time of using Yellow Express for a local pick and drop. Awesome team. Mo Number 1 was super helpful. Even helped me put my sofa in place and put it all together. Friendly team, efficient and altogether A1 with extra stars. Booked a van at 12pm and had a pick up by 1430!!
Peter George
13. July, 2023.
Another quality job from Yellow Express. No mess, no fuss, just get on with it and get it done. Very happy – I left the team a 15% tip
Abdullah Khan
6. July, 2023.
Love 😍
Rosemary Ghobril
4. July, 2023.
Yellow Express and their drivers provide excellent service. I had a wonderful and efficient driver who assisted in loading and unloading my items. They were prompt, affordable and extremely professional. I recommend Yellow Express for any of your transport needs.
I used Yellow Express to move stuff into my new apartment. Had the pleasure of working with Dean who was very easy-going. We ended up moving more than what I initially planned and he had no complaints. He was very fun to chat with and very efficient which made the move a rather enjoyable experience. Thank you Dean. To avoid disappointment, take note that the time you specify may not be the exact time that the operator will arrive. It would depend on who is near the area and how many jobs are queued. Recommend to discuss in advance with the very friendly support team if you have a strict timeline.
I recently moved out and needed assistance picking up furniture from various places, and Yellow Express was the exact solution that I needed. I was already impressed with their service through their email correspondence and phone calls, but was genuinely surprised at how friendly and supportive everyone was. Dean was my driver for both my bookings and he went above and beyond to transport my furniture goods (sofa and dining table) with care, was extremely efficient with timing and very friendly – thanks Dean! Definitely will be using Yellow Express/Dean for all the random tasks I will need moving forward 🙂
Joseph Thannheiser
27. June, 2023.
Booked a man and a van service for what I thought would be a quick two hour job… Turned out to be 5 hours total, luckily had the amazing assistance from Dean and the time just flew by!
Fiona Cummins
26. June, 2023.
Tom in the office was fantastic, he even managed same day delivery. We phoned after 1pm with delivery from inner Syd to Illawarra by 5:30pm. Ali, the driver, was so polite and helpful. Great operators, will use again and recommend them.
Donna Shenton
25. May, 2023.
After much frustration trying to find same day delivery I found Yellow Express. Made a call and spoke to Thomas who without any effort and such ease took our details and the parcel was collected and delivered as promised. I have the APP on my phone as well. Couldn't be happier. Donna
THE YELLOW EXPRESS PROMISE
Choosing Yellow Express means opting for excellence. Our promise is to provide exceptional service. Your belongings are our priority, and we vow to handle them with the utmost care.
Set sail on your moving adventure with Yellow Express! We are the wizards of moving boxes, pallets and everything in between, ready to turn your moving dreams into reality.
Get in touch with us for a personalised moving experience, tailored to suit your needs. Talk to our friendly team, right here in Australia, and let's make your move a tale to remember!
Jane moved two tables from Bondi to Ultimo for $99 in 43 mins
Peter moved a plasma TV from Broadway JB Hi Fi to Auburn for $149 in 85 mins
Lisa moved her studio apartment from Camperdown to Newtown for $297 in 143 mins
Chris moved a large artwork from Parramatta to Camden for $149 in 90 mins
ULTRA-FAST, SAME-DAY DELIVERY
While the traditional movers crawl, we're pressing the hyperdrive for same-day, adrenaline-pumping delivery! Yellow Express is the daredevil of the moving circuit! Your cargo? It's aboard a supersonic spaceship – not a second wasted! Have an unconventional request? Quirky or audaciously inventive, we exclaim, "Bring it on!" and soar like rocket-propelled eagles!
FORGET THE DRAMA; EMBRACE THE YELLOW EXPRESS BLITZ!
Ever faced those nail-biting moments when your stuff need to traverse the city faster than a meteor? Yellow Express is here like a masked avenger, geared up for the task! We are not just a courier; we are the turbocharged, send-move-deliver wizards adept at anything you throw at us!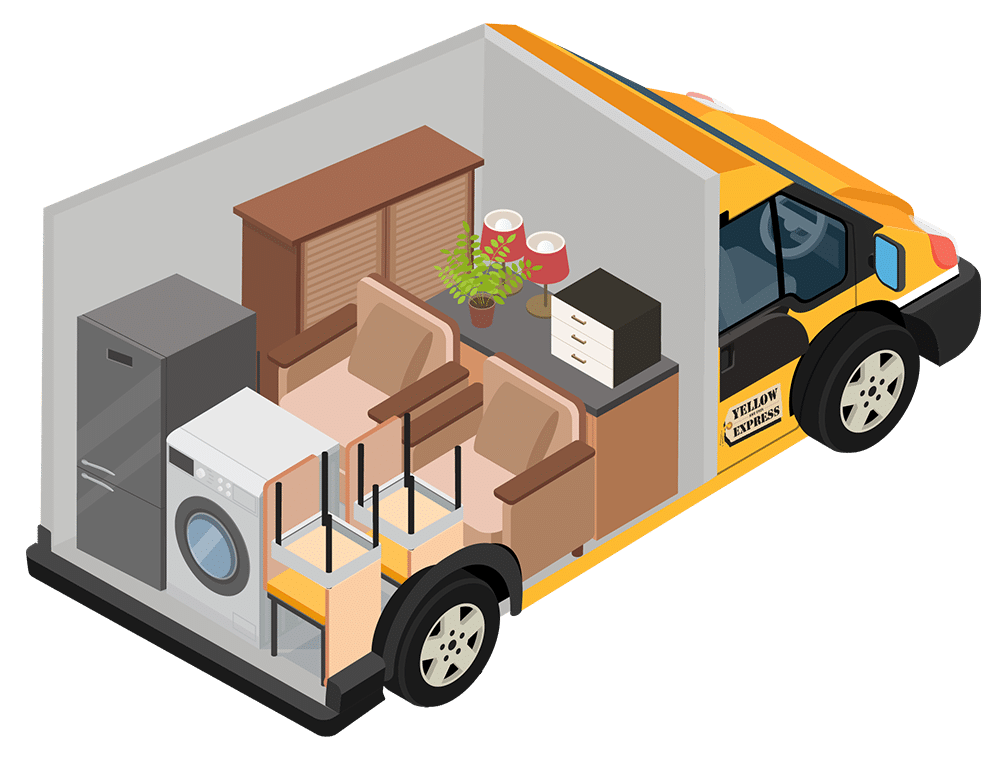 WHY OPT FOR YELLOW EXPRESS?
Seeking the elements that make Yellow Express the ultimate choice in Sydney? Behold our triumphant trio:
Lightning Speed: Imagine The Flash piloting a giant van—that's us! We're agile and speedy, ensuring your things are transported in the twinkling of an eye!

Ultimate Flexibility: From small trinkets to colossal treasures, versatility is our rallying cry! We're tuned for any challenge that you set before us!

Rock-Solid Dependability: Our commitment is unshakable, akin to a samurai's honour—tougher than a diamond. We don't just meet your anticipations regarding moving boxes; we skyrocket above them!
Consider Yellow Express's ultimate enchantment in courier services, especially for moving boxes. Our innovative approach to each client's distinct needs makes logistics a breeze.
Jump on the Yellow Express bandwagon and let's manifest magic together! Dial us up and engage with an actual human. And yes, we're proudly based in Australia!