Literally anything… we mean it.
Try us – we dare you. Call with your craziest request and trust us, we'll make it happen… FAST!
No matter who you are, there is NO WAY you haven't found yourself in a tough spot. Needing to get, it, whatever it is from one place to another.
Whether it be returning Pete's lawnmower you borrowed a few months ago or a new plasma TV you bought today for tonight's big game. That's right- We're the same day courier you didn't know you needed.
When you're in a Send, Move, Deliver pinch there just hasn't been that UBER company to solve all your problems at a couple taps of a button.
Until now.
The things you can Send, Move or Deliver with Yellow Express are practically endless… but here are a few examples to get your imagination flowing.
How amazing is UBER… a few taps of your phone and boom your ride is there. We asked ourselves, why can't you book a BIG VAN the same way?
Forget the headaches of a ute hire or a van hire. We can be there on-demand in as little as 30-minutes and deliver direct to your destination without stopping
This is a map of our vans buzzing around Sydney. Ready to be at your pick up location within a matter of minutes.
So what are you waiting for?
You might be wondering "Ok sounds great, but how much does it cost?"
Well, we believe we're extremely affordable for the incredible service we offer.
We've moved whole studio apartments for less than $200.
We've home delivered brand new plasma TVs for the same price the department store offered but within an hour instead of a week.
Here are just a couple pricing examples to give you the gist, but feel free to use our quoting tool or give us a call to get a better estimate.
Jane moved two tables from Bondi to Ultimo for $99 in 43 mins
Peter moved a plasma TV from Broadway JB Hi Fi to Auburn for $149 in 85 mins
Lisa moved her studio apartment from Camperdown to Newtown for $297 in 143 mins
Chris moved a large artwork from Parramatta to Camden for $149 in 90 mins
You might be scratching your head thinking "I borrowed my mates van and it was a bit of a nightmare – not as much fit as you'd think"
Well not in our vans – Yellow Express vans are MASSIVE.
They can fit pretty much anything inside, we've even moved whole studio apartments in one load… just imagine the possibilities.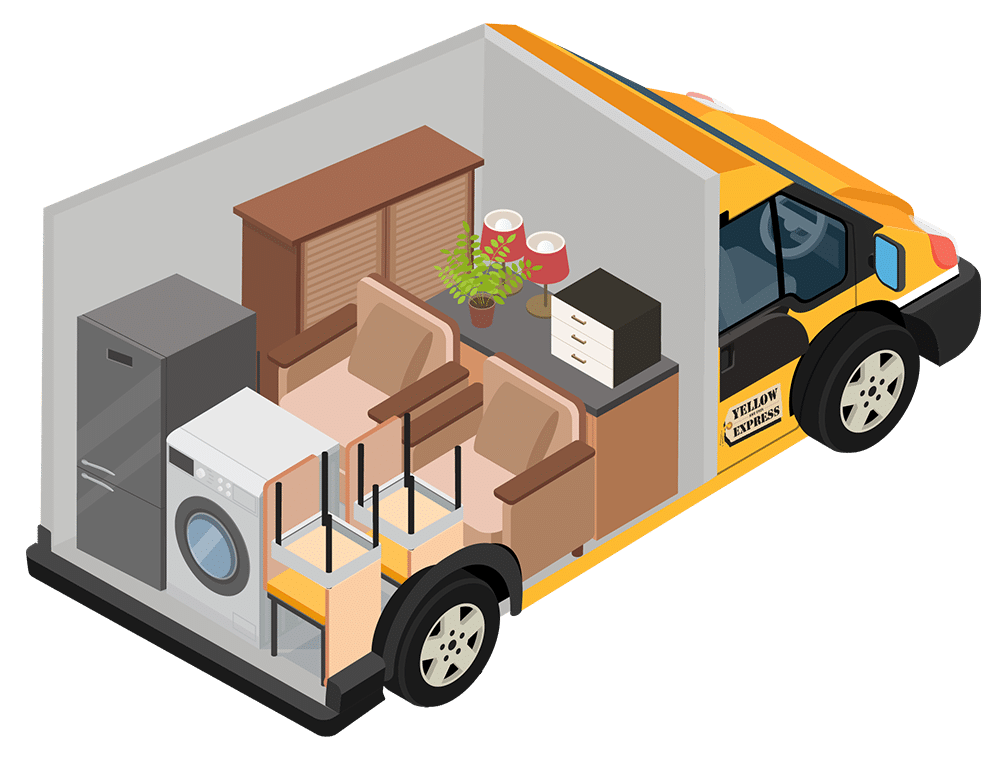 We have mentioned UBER a couple times here.
Maybe that sounds great to you. Or you could be rolling your eyes thinking "not another faceless tech company"
Wherever you fit in this spectrum, you're going to be smiling soon.
Because we've got it all.
We're an Aussie company that has been around since 1926 backed by all the modern tech to allow us to operate like a cutting-edge business.
Remember the good ol' days when you dialled a number and spoke to a person, not a machine. And that person was in the same city as you… Local people with local knowledge.
When you call us that is exactly what you get. A local service centre with people who know how to help you get something from A to B in the best possible way.
We've been helping Australians Send Move & Deliver since 1926! Kinda like Vegemite on Wheels. 😉 We've helped with the Sydney Harbour Bridge, The Southern Cross, The Sydney Cenotaph & The Henry Lawson Monument… Imagine that!