Need a same day delivery in Sydney in Greater Sydney? At Yellow Express, we make moving stuff a breeze! We've got a fleet of over 50 vans cruising the roads, ready to rock up at your pickup spot in just a jiffy to take whatever you need from A to B and that too same day delivery in Sydney.
When it comes to speedy deliveries, we've got the whole "Sydney hustle" down pat. Navigating these crazy streets is our jam, so you can bet your bottom dollar that we'll get your goodies where they need to be pronto with Yellow Express' same day delivery in Sydney!
Got an urgent document, a precious package, or a bloomin' forgotten item? We'll handle it like a legend and provide same day delivery in Sydney. Let Yellow Express be your same day delivery in Sydney hero in Greater Sydney. Book with us today and feel the thrill of lightning-fast same day delivery in Sydney!
Is same day delivery in Sydney a wild request? We get you. In a world of next-day delivery, we go the extra mile with our same day delivery in Sydney promise! Give us a try – we dare you! We've seen it all at Yellow Express, and we're always up for a challenge. No matter how crazy your request might be, trust us to make it happen… FAST!
We've all found ourselves in a tricky situation, needing to transport something from one place to another. Perhaps you need to return Pete's lawnmower you borrowed ages ago, or you bought a shiny new plasma TV for tonight's big game. Whatever "it" is, we've got your back.
THE ULTIMATE SOLUTION
Yellow Express is the ultimate solution for your Send, Move, Deliver needs. We're like the UBER of courier services, ready to swoop in and save the day with just a few taps on your phone. Still on those search results for "Courier Services Near Me"? Our services are available across Greater Sydney, ensuring you're always within reach no matter where you are.
Our professional drivers and a fleet of speedy vans are prepared to handle anything you throw at us. From delicate items to bulky furniture, we'll ensure your goods arrive safely and on time. We pride ourselves on our adaptability and commitment to delivering top-notch service, no matter the size or complexity of the task.
HERE'S WHY YOU CHOOSE YELLOW EXPRESS FOR YOUR SAME DAY DELIVERY IN SYDNEY
Speed: Our drivers are always on the go, ensuring that your parcels reach their destination in record time.
Flexibility: No task is too big or too small; we're prepared to handle any challenge you throw our way.
Reliability: Our commitment to customer satisfaction means we'll do everything possible to meet your needs and exceed your expectations.

Don't wait another minute – end your doom scroll, call Yellow Express, and let us show you why we're the only option for same day delivery in Sydney. Whatever your requirements, trust us to get the job done right and in a flash!
You might be asking yourself, "Alright, Yellow Express sounds fantastic, is this same day delivery in Sydney going to cost me an arm and a leg?"
Paul Goff
15. July, 2023.
Second time of using Yellow Express for a local pick and drop. Awesome team. Mo Number 1 was super helpful. Even helped me put my sofa in place and put it all together. Friendly team, efficient and altogether A1 with extra stars. Booked a van at 12pm and had a pick up by 1430!!
Peter George
13. July, 2023.
Another quality job from Yellow Express. No mess, no fuss, just get on with it and get it done. Very happy – I left the team a 15% tip
Abdullah Khan
6. July, 2023.
Love 😍
Rosemary Ghobril
4. July, 2023.
Yellow Express and their drivers provide excellent service. I had a wonderful and efficient driver who assisted in loading and unloading my items. They were prompt, affordable and extremely professional. I recommend Yellow Express for any of your transport needs.
I used Yellow Express to move stuff into my new apartment. Had the pleasure of working with Dean who was very easy-going. We ended up moving more than what I initially planned and he had no complaints. He was very fun to chat with and very efficient which made the move a rather enjoyable experience. Thank you Dean. To avoid disappointment, take note that the time you specify may not be the exact time that the operator will arrive. It would depend on who is near the area and how many jobs are queued. Recommend to discuss in advance with the very friendly support team if you have a strict timeline.
I recently moved out and needed assistance picking up furniture from various places, and Yellow Express was the exact solution that I needed. I was already impressed with their service through their email correspondence and phone calls, but was genuinely surprised at how friendly and supportive everyone was. Dean was my driver for both my bookings and he went above and beyond to transport my furniture goods (sofa and dining table) with care, was extremely efficient with timing and very friendly – thanks Dean! Definitely will be using Yellow Express/Dean for all the random tasks I will need moving forward 🙂
Joseph Thannheiser
27. June, 2023.
Booked a man and a van service for what I thought would be a quick two hour job… Turned out to be 5 hours total, luckily had the amazing assistance from Dean and the time just flew by!
Fiona Cummins
26. June, 2023.
Tom in the office was fantastic, he even managed same day delivery. We phoned after 1pm with delivery from inner Syd to Illawarra by 5:30pm. Ali, the driver, was so polite and helpful. Great operators, will use again and recommend them.
Donna Shenton
25. May, 2023.
After much frustration trying to find same day delivery I found Yellow Express. Made a call and spoke to Thomas who without any effort and such ease took our details and the parcel was collected and delivered as promised. I have the APP on my phone as well. Couldn't be happier. Donna
PRICES THAT DON'T BREAK THE BANK
At Yellow Express, we provide fantastic service at affordable prices. We've moved studio apartments for under $200 and delivered brand new plasma TVs within an hour, rather than the week-long wait offered by department stores.
We're all about making same day delivery in Sydney services wallet-friendly without compromising quality. To get an idea of our competitive pricing, use our quoting tool or call us for a personalised estimate. With Yellow Express, you can trust that we'll get the job done quickly and at a price that won't break the bank.
Jane moved two tables from Bondi to Ultimo for $99 in 43 mins
Peter moved a plasma TV from Broadway JB Hi Fi to Auburn for $149 in 85 mins
Lisa moved her studio apartment from Camperdown to Newtown for $297 in 143 mins
Chris moved a large artwork from Parramatta to Camden for $149 in 90 mins
WE CAN MOVE LITERALLY ANYTHING ANYWHERE
Still wondering what you might need a same day delivery in Sydney for? You might recall borrowing a mate's van and facing the headache of limited space. That's not a problem with Yellow Express – our vans are MASSIVE!
Our same day delivery in Sydney services are designed to accommodate all your needs, and our spacious vans can handle just about anything you need to transport. We've successfully moved entire studio apartments in one trip, so imagine the endless possibilities with Yellow Express at your service.
No more fretting over limited space or multiple trips; our impressive fleet of vans has you covered. Trust Yellow Express for all your same day delivery in Sydney needs, and experience the ease and convenience of transporting your goods in our spacious, expertly-driven vans.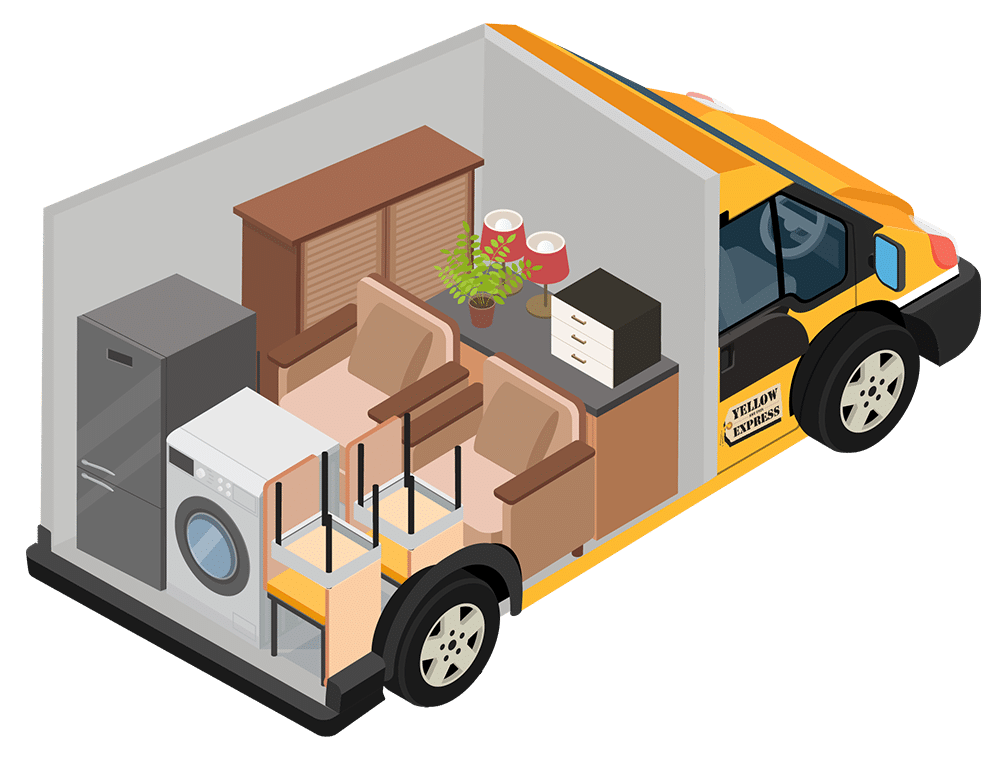 RICH WITH HISTORY
You might wonder, "These same day delivery in Sydney guys are just another faceless tech company". Fear not! Yellow Express has the perfect blend of old-school charm and modern efficiency.
Established in 1926, we're a proud Aussie company backed by cutting-edge technology, operating like a modern business. When you call us, you'll speak to a real person, not a machine – local folks with local knowledge, ready to help you get your items from A to B in the best possible way. And that too, the same day delivery in Sydney.
We have a rich history of helping Australians Send, Move, and Deliver since 1926. Think of us as Vegemite on Wheels! 😉 We've even lent a hand with iconic projects like the Sydney Harbour Bridge, The Southern Cross, The Sydney Cenotaph, and The Henry Lawson Monument. Just imagine what we can do for you!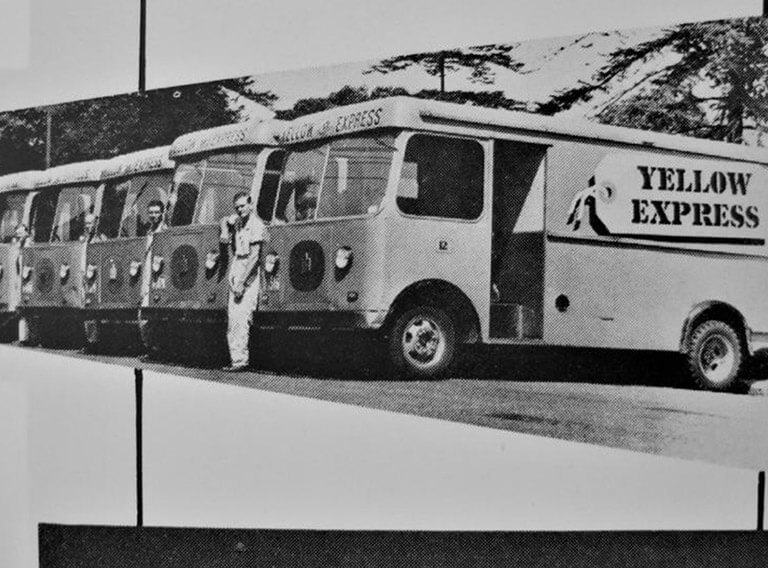 WE GO ABOVE AND BEYOND
At Yellow Express, our top-notch team takes our services to the next level. Every operator completes an extensive recruitment and training program, ensuring you get consistent, impeccable customer service and the respectful handling of your items with our same day delivery in Sydney.
Our operators are owners who genuinely care about their work and your satisfaction. With our same day delivery in Sydney services, you can trust that your parcels are in the hands of experts who know their way around Greater Sydney like the back of their hand.
When you choose Yellow Express, you're not just getting a typical delivery service – you're opting for an exceptional experience. Our dedicated operators make all the difference, turning the ordinary into extraordinary and providing you with a smooth, hassle-free same day delivery in Sydney service you can rely on.