Forget the hard DIY life of a GoGet van
The GoGet life is a hard life. You might think GoGet van is a nifty idea, but picture this – a sunny day turns into you lugging heavy stuff into a rented van, feeling like you're in a never-ending gym session.
They are like, "Hey, rent our van, and here's your chance to sweat, struggle, and swear while carting your own gear." Yellow Express? We're all about the 'no-lift' life. We bring a man and a big van on demand!
Is an urgent document or valuable package on hand? Left something behind? No worries! Yellow Express, your superior alternative to a courier in Sydney, has you covered. We'll handle your needs professionally, delivering even on the same day. Experience the thrill of rapid delivery done right by Yellow Express.
OUR VANS RULE SYDNEY
Yellow Express is here to whisk away your send, move, deliver blues. Got a mountain of stuff to shift? A last-minute prezzie to ship? Or a super important document that needs to get across town ASAP. Count on Yellow Express! Our fleet of over 50 zippy vans is strutting around town, ready to swoop in at your pick-up spot faster than a seagull on a hot chip. We'll swoop in like a superhero and handle it like a boss. Seriously, who needs the hassle of renting a GoGet van when Yellow Express is like your fairy godmother with a van, turning moving nightmares into a cool, breezy dream?
Forget breaking your back with a GoGet van and kiss your stress goodbye. Our vans are like the ninjas of Sydney streets, and our drivers? They've got a black belt in delivery-fu! Yellow Express is the smooth operator, making things happen in a breeze. No sweat, no tears, just sweet, zippy delivery magic. Choose the chill way – choose Yellow Express!
WARP-SPEED SAME DAY DELIVERY
Other couriers are all about the scenic route to next-day delivery, but we're hittin' the nitro for same-day awesomeness! We're like the adrenaline junkies of delivery, always up for a wild ride. With Yellow Express, your package is on a fast track – no dilly-dallying! Throw us a curveball; we double-dog dare ya! No matter how bonkers your request is, buckle up, 'cause we're gonna make it happen… at warp speed!
Going the GoGet van route is like signing up for a triathlon – driving, heaving, swearing, and all. And those vans are like a DIY puzzle – where's the nearest van? Did the last person leave any fuel in it? Nope, just a cold half-eaten kebab and an empty tank. Great. Now it's a detour to the servo, a queue that rivals Black Friday, and a game of "Guess the Odometer" back at the van. And whoops, there goes your precious hire time!
GO GET YELLOW EXPRESS INSTEAD
Another GoGet van concern – got a street tighter than a hipster's jeans? Maneuvering a GoGet van through there is like threading a needle while wearing boxing gloves. Not the dream scenario!
With a GoGet van, you're breaking a sweat just thinking about it! A GoGet van is like a DIY project you didn't sign up for. But Yellow Express? That's like having your own personal genie – blink, and your stuff's moved. Pete's none the wiser, and you're chillin' in front of your new telly.
GoGet van is an option, sure. But if you'd rather not star in your own action movie (with you doing all the stunts), Yellow Express is your smooth-sailing, swanky alternative. Choose Yellow Express!
Paul Goff
15. July, 2023.
Second time of using Yellow Express for a local pick and drop. Awesome team. Mo Number 1 was super helpful. Even helped me put my sofa in place and put it all together. Friendly team, efficient and altogether A1 with extra stars. Booked a van at 12pm and had a pick up by 1430!!
Peter George
13. July, 2023.
Another quality job from Yellow Express. No mess, no fuss, just get on with it and get it done. Very happy – I left the team a 15% tip
Abdullah Khan
6. July, 2023.
Love 😍
Rosemary Ghobril
4. July, 2023.
Yellow Express and their drivers provide excellent service. I had a wonderful and efficient driver who assisted in loading and unloading my items. They were prompt, affordable and extremely professional. I recommend Yellow Express for any of your transport needs.
I used Yellow Express to move stuff into my new apartment. Had the pleasure of working with Dean who was very easy-going. We ended up moving more than what I initially planned and he had no complaints. He was very fun to chat with and very efficient which made the move a rather enjoyable experience. Thank you Dean. To avoid disappointment, take note that the time you specify may not be the exact time that the operator will arrive. It would depend on who is near the area and how many jobs are queued. Recommend to discuss in advance with the very friendly support team if you have a strict timeline.
I recently moved out and needed assistance picking up furniture from various places, and Yellow Express was the exact solution that I needed. I was already impressed with their service through their email correspondence and phone calls, but was genuinely surprised at how friendly and supportive everyone was. Dean was my driver for both my bookings and he went above and beyond to transport my furniture goods (sofa and dining table) with care, was extremely efficient with timing and very friendly – thanks Dean! Definitely will be using Yellow Express/Dean for all the random tasks I will need moving forward 🙂
Joseph Thannheiser
27. June, 2023.
Booked a man and a van service for what I thought would be a quick two hour job… Turned out to be 5 hours total, luckily had the amazing assistance from Dean and the time just flew by!
Fiona Cummins
26. June, 2023.
Tom in the office was fantastic, he even managed same day delivery. We phoned after 1pm with delivery from inner Syd to Illawarra by 5:30pm. Ali, the driver, was so polite and helpful. Great operators, will use again and recommend them.
Donna Shenton
25. May, 2023.
After much frustration trying to find same day delivery I found Yellow Express. Made a call and spoke to Thomas who without any effort and such ease took our details and the parcel was collected and delivered as promised. I have the APP on my phone as well. Couldn't be happier. Donna
WHO IS YELLOW EXPRESS
Ever had that "Uh-oh" moment when you need to rocket something across town? Like giving back your mate's lawnmower or getting the mega 4K TV from the store for your sports blowout? Whatever your "it" is, Yellow Express has got your six. We ain't no courier service; we're the high-flying, send, move, deliver dynamo you've been dreaming of!
Jane moved two tables from Bondi to Ultimo for $99 in 43 mins
Peter moved a plasma TV from Broadway JB Hi Fi to Auburn for $149 in 85 mins
Lisa moved her studio apartment from Camperdown to Newtown for $297 in 143 mins
Chris moved a large artwork from Parramatta to Camden for $149 in 90 mins
Now, imagine wrestling with a GoGet van for the same gig. You'd be racing against the clock, breaking a sweat, and possibly losing your mind! A GoGet van might leave you feeling like you've done ten rounds with a kangaroo. When you choose a GoGet van, it's all on you. Just the thought of navigating Sydney streets with a GoGet van is enough to cost you your relationship. Nuff said!
Why be the jack of all trades when Yellow Express can be your personal flash – whisking your stuff with flair and speed?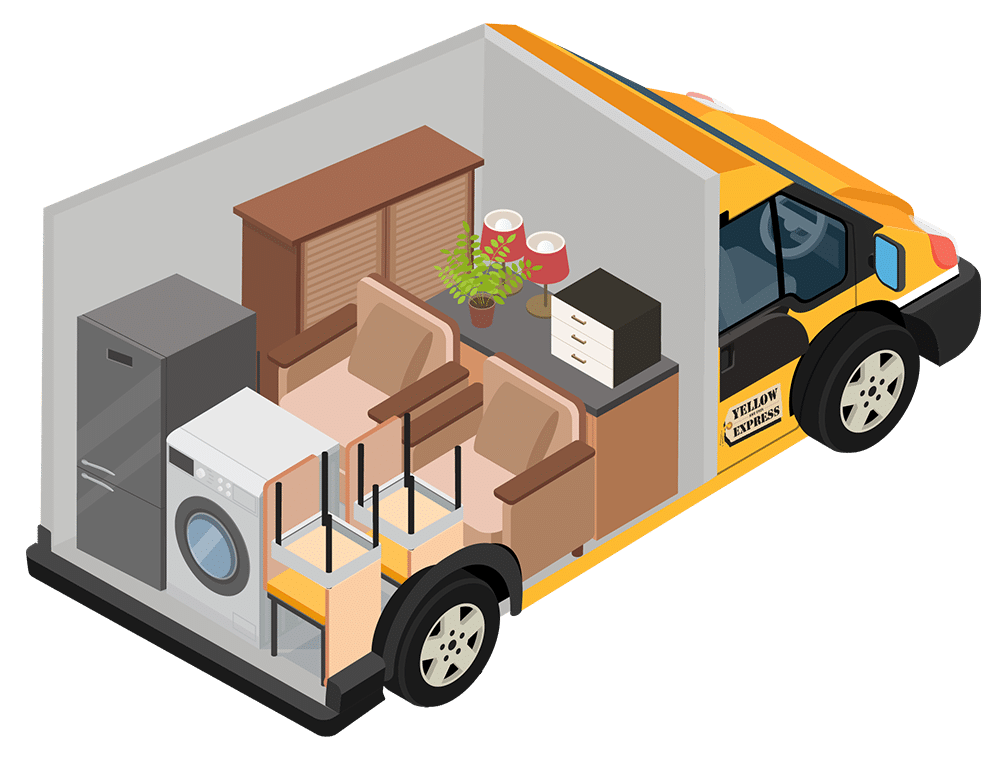 WHY PICK YELLOW EXPRESS
Need a nudge to see why Yellow Express kicks the pants off any other courier in Sydney, including the DIY GoGet vans? Here's the lowdown on our fab trio:
Speedster Skills: We're like The Flash with a van. Always zipping, never tripping – making sure your treasures are where they need to be, faster than you can say "GoGet van" three times fast!
Flex-Masters: Whether you've got a pebble or a mountain to move, flexibility's our middle name! We're geared up for whatever wild request you might cook up. A GoGet van might buckle, but we thrive on the challenge!
Rock-Solid Reliability: Our promise is like a superhero's oath – unbreakable. We don't just meet your hopes; we pole vault over them. With a GoGet van, you're at the helm of your own destiny (with all the heavy lifting). With us, you're on a magic carpet ride.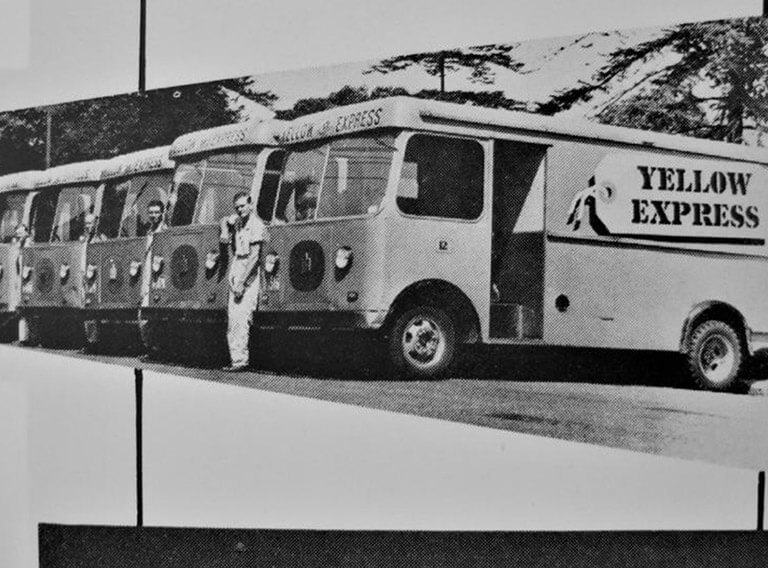 GoGet vans are like a 'build-your-own-adventure' kit – some assembly required. With Yellow Express, you're getting the deluxe, all-inclusive VIP package. Our fresh-as-a-daisy approach to every customer's unique wants and whims turns what could be a dreary 'ol transport cost into your secret weapon.
Come join the Yellow Express fam and make some magic together.