You know, who makes fast look slow? Yellow Express. We're not just about beating the clock – we're smashing it to smithereens with our same-day delivery promise. Whether it's urgent docs, precious parcels, or that book you borrowed (and forgot) to return, we've got you covered. Need something delivered pronto? Say less. We'll make sure your stuff zooms across Sydney and lands at its destination on the same day. Easy peasy. With our comprehensive Sydney-wide coverage, you'll never again have to worry about stuff reaching its destination on time. We're not just another fast courier in Sydney. We're the Usain Bolt of fast couriers, leaving the others eating our dust.
WE'RE MORE THAN JUST SPEED DEMONS
Here at Yellow Express, we know that being a top-tier fast courier in Sydney means more than just speed. Sure, we're quick, but we're also flexible. No task is too big or too small for us. You could be sending a care package to a mate or a massive piece of machinery to a client, and we'd handle it all the same – with care, professionalism, and a winning smile.
What's more, we're as reliable as they come. We're like that dependable mate who's always there when you need them. We always go the extra mile to meet your needs and exceed your expectations. Why? Because that's just how we roll. When we say we'll get it there, we get it there. And we're not just blowing smoke – our customers agree.
What sets us apart from other fast couriers zipping around Sydney? Simple. We're not just here to drop off your package and zip it off. Nah, we're your go-to for all your transportation needs. Got something fragile? Or bulky? Or just plain odd? Bring it on. Our ace drivers are ready to roll.
We're A Part of Sydney, Not Just In It
We've been zipping around Sydney for over 100 years now. That's a century of local events, initiatives, and growing with you, our awesome customers. We're not just another courier service. We're as Sydney as the Harbour Bridge. Did we mention that we actually helped build the harbour bridge? That's right, a whole century of zooming around this city we love. Participating in local events, building relationships, and delivering on our promises. We're not just one of the many fast couriers in Sydney; we're part of Sydney's fabric.
Our Crack Team and Super Fleet
We roll deep. With over 200 vehicles in our fleet, we've got a ride for every job. And our team? Top-notch. Together, we move about 600 tonnes of freight each day. Yes, you read that right. Each. Day. We don't just claim to be fast couriers in Sydney; we live it.
A Tech-Forward Approach That Puts You in Control
As one of the leading fast couriers in Sydney, we've always got our finger on the pulse. We're using the latest tech to keep you in the loop with real-time tracking, ensuring you're always in the know about where your package is. This isn't your granddad's courier service. Yellow Express is more than just fast couriers of the 21st century.
We've Got Your Back
We're not just about deliveries. Need someone to chat with about your fast courier woes? Or do you have a business that's had it with unreliable operators that claim to be fast couriers? Look no further. We've got the solution, and we're always ready to help.
Paul Goff
15. July, 2023.
Second time of using Yellow Express for a local pick and drop. Awesome team. Mo Number 1 was super helpful. Even helped me put my sofa in place and put it all together. Friendly team, efficient and altogether A1 with extra stars. Booked a van at 12pm and had a pick up by 1430!!
Peter George
13. July, 2023.
Another quality job from Yellow Express. No mess, no fuss, just get on with it and get it done. Very happy – I left the team a 15% tip
Abdullah Khan
6. July, 2023.
Love 😍
Rosemary Ghobril
4. July, 2023.
Yellow Express and their drivers provide excellent service. I had a wonderful and efficient driver who assisted in loading and unloading my items. They were prompt, affordable and extremely professional. I recommend Yellow Express for any of your transport needs.
I used Yellow Express to move stuff into my new apartment. Had the pleasure of working with Dean who was very easy-going. We ended up moving more than what I initially planned and he had no complaints. He was very fun to chat with and very efficient which made the move a rather enjoyable experience. Thank you Dean. To avoid disappointment, take note that the time you specify may not be the exact time that the operator will arrive. It would depend on who is near the area and how many jobs are queued. Recommend to discuss in advance with the very friendly support team if you have a strict timeline.
I recently moved out and needed assistance picking up furniture from various places, and Yellow Express was the exact solution that I needed. I was already impressed with their service through their email correspondence and phone calls, but was genuinely surprised at how friendly and supportive everyone was. Dean was my driver for both my bookings and he went above and beyond to transport my furniture goods (sofa and dining table) with care, was extremely efficient with timing and very friendly – thanks Dean! Definitely will be using Yellow Express/Dean for all the random tasks I will need moving forward 🙂
Joseph Thannheiser
27. June, 2023.
Booked a man and a van service for what I thought would be a quick two hour job… Turned out to be 5 hours total, luckily had the amazing assistance from Dean and the time just flew by!
Fiona Cummins
26. June, 2023.
Tom in the office was fantastic, he even managed same day delivery. We phoned after 1pm with delivery from inner Syd to Illawarra by 5:30pm. Ali, the driver, was so polite and helpful. Great operators, will use again and recommend them.
Donna Shenton
25. May, 2023.
After much frustration trying to find same day delivery I found Yellow Express. Made a call and spoke to Thomas who without any effort and such ease took our details and the parcel was collected and delivered as promised. I have the APP on my phone as well. Couldn't be happier. Donna
Our Rockstar Team and Beastly Fleet
Here's something you probably didn't know: Yellow Express operates a hefty fleet of over 200 vehicles. Yeah, you read that right. Two hundred vehicles are ready to cater to your every need, from scheduled runs to urgent on-the-fly deliveries. We're the Bruce Springsteen of fast couriers in Sydney – we were born to run!
Our stellar team is the best in the biz. Together, we move a whopping 600 tonnes of freight each day. That's about the same weight as 100 elephants! And that's why our clients stick with us for an average of 8 solid years. Because when you're one of the best fast couriers in Sydney, people notice.
Convenient Booking, Made for the Modern Day
We get it; booking a fast courier shouldn't be a pain in the backside. That's why we've made our booking process as easy as pie. A few taps on your phone or clicks on your computer and voila – Yellow Express, at your service! It's no wonder individuals and businesses across Sydney are choosing us as their go-to fast courier.
Jane moved two tables from Bondi to Ultimo for $99 in 43 mins
Peter moved a plasma TV from Broadway JB Hi Fi to Auburn for $149 in 85 mins
Lisa moved her studio apartment from Camperdown to Newtown for $297 in 143 mins
Chris moved a large artwork from Parramatta to Camden for $149 in 90 mins
Customer Service: Because You Deserve the Best
You're not just a number to us. We actually care about your needs. That's why our customer service sets us apart from other fast couriers in Sydney. Got a question about your delivery? Our support team's got your back. Need to resolve an issue? We're on it. With Yellow Express, you're getting more than just a courier service; you're getting a mate who's always there to help.
Custom Solutions for Businesses: Because One Size Doesn't Fit All
We're not just for individuals. Businesses love us too! Whether it's on-demand delivery for urgent packages or scheduled pickups for regular dispatches, Yellow Express has you covered. We get the unique challenges businesses face when looking for reliable, fast couriers in Sydney, and we're here to provide solutions.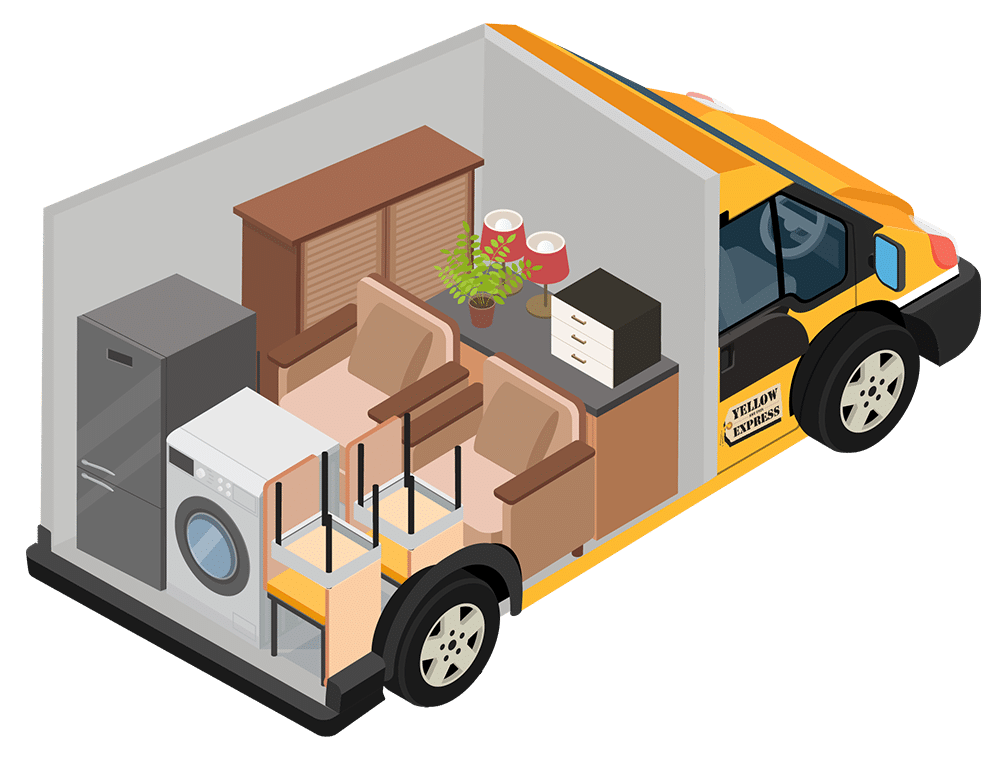 A Team That's Committed to Excellence
Every member of the Yellow Express team, from our customer service representatives to our delivery drivers, is dedicated to providing the best service possible. It's thanks to their commitment that we've become one of the top fast couriers in Sydney.
Giving Back to Our Community: Because Sydney's Been Good to Us
We've been part of the Sydney community for a century, and we believe in giving back. We're not just fast couriers in Sydney; we're also community advocates. We support local initiatives and charities, contributing to the communities that have given us so much love over the years.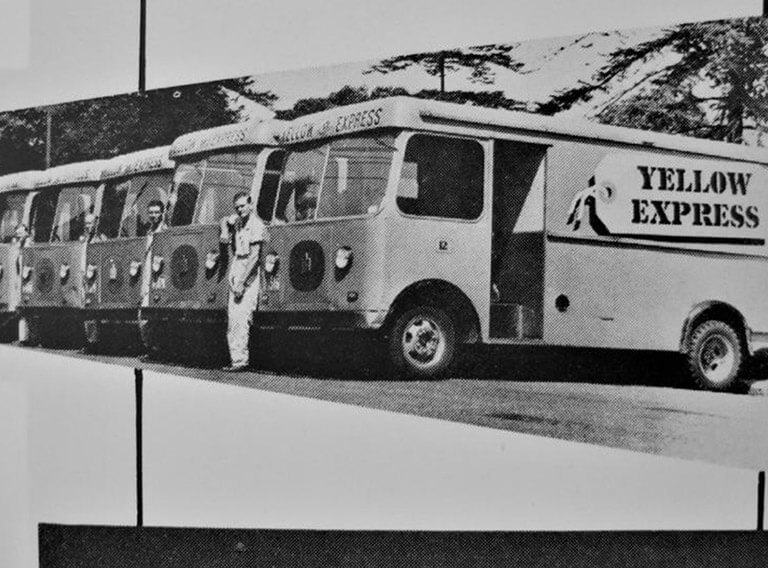 Masters of Sydney: Fast Couriers Who Know Their Turf
When it comes to navigating the labyrinth that is Sydney, our experience is second to none. We're not just fast couriers in Sydney; we're Sydney experts. We know this city like the back of our hand, which means your packages get where they're going in the fastest possible time.
Yellow Express is not just your regular fast courier in Sydney. We're a team of dedicated professionals who are ready to provide a top-notch, customer-centric courier service. Whether it's our same-day delivery promise, our cutting-edge tracking tech, or our superb customer service, choosing Yellow Express means choosing a courier service that truly delivers.
Ready to experience the Yellow Express difference? Hop on board and let us show you why we're the best of the fast couriers in Sydney!
Why are we top dog among fast couriers in Sydney, you ask? It's not just because we've got the best drivers or the slickest vans. It's because we're all about meeting your needs. Need to get a package across town ASAP? We're on it. Bought a brand-new 4K TV just in time for the footie? Consider it delivered.
Our service doesn't stop at Sydney's borders. No matter where you are in this wonderful city, we're just a few taps on your phone away. With Yellow Express, you're not just choosing one of the many fast couriers in Sydney – you're choosing a partner who's got your back when you need it the most.