Break up with your removalist. Have you ever been through a moving nightmare? Those dreadful days filled with disappearing boxes, scratched furniture, and a symphony of headaches. Well, it's time to turn the page. Say g'day to Yellow Express – we're not your traditional removalist. We're the refreshing change you've longed for. So go ahead, and break up with your removalist. Trust us; it's for the better. It's not you; it's them.
COVERING EVERY NOOK AND CRANNY OF GREATER SYDNEY
We have over 50 vans zipping around the beautiful expanse of Greater Sydney. From the bustling city centre to the serene suburbs, our fleet is ever ready, making sure your moving needs are covered, no matter where you are.
With us, you're never too far from a moving solution. Our expansive coverage across Greater Sydney means we're always just around the corner, ready to whisk your belongings to their new home. It's all part of our commitment to making moving a breeze. So, the next time you're looking for a removalist, remember: Yellow Express has Greater Sydney covered. With our fleet of over 50 vans on the move, we're redefining what it means to be a modern, efficient, and customer-centric moving service.
YELLOW EXPRESS HAS YOUR BACK
You might be considering hiring a removalist. But hold your horses right there. Why would you settle for a typical removalist when Yellow Express is ready to roll? We pack the muscle, the hustle, and the kind of service that will have you grinning from ear to ear.
A removalist can move your stuff, granted. But do they do it with the pizzazz, panache, and meticulous care that we brings to the table? We highly doubt it. We're not just an alternative- we're the upgrade you didn't know you needed. With us, moving becomes a breeze, not a burden.
If you've ever dealt with a removalist, you'll know the routine: hidden costs, late arrivals, and a general aura of "couldn't care less." But we sing a different tune. We're all about transparency and punctuality, and we treat your belongings as if they were our grandmother's china.
YELLOW EXPRESS IS THE REAL DEAL
The next time you're in the market for a removalist, pause for a second. Yellow Express is here to make your move smooth, efficient, and, dare we say, enjoyable. That's right, enjoyable! Who knew moving could be anything other than a migraine-inducing ordeal? With us, you're not just moving. You're moving with flair.
Not ones to toot our own horn, but when it comes to stacking us up against your run-of-the-mill removalist, it's hardly a fair fight. With us, you're getting stellar service, a friendly crew, and a moving experience in a league of its own.
TIME TO BID ADIEU TO YOUR REMOVALIST – YELLOW EXPRESS IS HERE
It's high time you waved goodbye to your old removalist and embraced Yellow Express. We're here to revolutionise the moving scene, shake things up, and deliver an experience you'll be eager to share with your friends.
Paul Goff
15. July, 2023.
Second time of using Yellow Express for a local pick and drop. Awesome team. Mo Number 1 was super helpful. Even helped me put my sofa in place and put it all together. Friendly team, efficient and altogether A1 with extra stars. Booked a van at 12pm and had a pick up by 1430!!
Peter George
13. July, 2023.
Another quality job from Yellow Express. No mess, no fuss, just get on with it and get it done. Very happy – I left the team a 15% tip
Abdullah Khan
6. July, 2023.
Love 😍
Rosemary Ghobril
4. July, 2023.
Yellow Express and their drivers provide excellent service. I had a wonderful and efficient driver who assisted in loading and unloading my items. They were prompt, affordable and extremely professional. I recommend Yellow Express for any of your transport needs.
I used Yellow Express to move stuff into my new apartment. Had the pleasure of working with Dean who was very easy-going. We ended up moving more than what I initially planned and he had no complaints. He was very fun to chat with and very efficient which made the move a rather enjoyable experience. Thank you Dean. To avoid disappointment, take note that the time you specify may not be the exact time that the operator will arrive. It would depend on who is near the area and how many jobs are queued. Recommend to discuss in advance with the very friendly support team if you have a strict timeline.
I recently moved out and needed assistance picking up furniture from various places, and Yellow Express was the exact solution that I needed. I was already impressed with their service through their email correspondence and phone calls, but was genuinely surprised at how friendly and supportive everyone was. Dean was my driver for both my bookings and he went above and beyond to transport my furniture goods (sofa and dining table) with care, was extremely efficient with timing and very friendly – thanks Dean! Definitely will be using Yellow Express/Dean for all the random tasks I will need moving forward 🙂
Joseph Thannheiser
27. June, 2023.
Booked a man and a van service for what I thought would be a quick two hour job… Turned out to be 5 hours total, luckily had the amazing assistance from Dean and the time just flew by!
Fiona Cummins
26. June, 2023.
Tom in the office was fantastic, he even managed same day delivery. We phoned after 1pm with delivery from inner Syd to Illawarra by 5:30pm. Ali, the driver, was so polite and helpful. Great operators, will use again and recommend them.
Donna Shenton
25. May, 2023.
After much frustration trying to find same day delivery I found Yellow Express. Made a call and spoke to Thomas who without any effort and such ease took our details and the parcel was collected and delivered as promised. I have the APP on my phone as well. Couldn't be happier. Donna
THE FUTURE OF REMOVALS
Who needs a removalist when Yellow Express is raring to go? We're the vanguard of making the move happen, like yesterday! We're the team you've been waiting for. So toss out your preconceived notions of what a removalist should be and step into a world where moving is easy, enjoyable, and stress-free.
When it comes to moving, it's all about trust. And who better to trust than a team dedicated to outshining every removalist out there? We've built our reputation on delivering a seamless, swift, and stress-free moving experience. And we've got a parade of five-star reviews to prove it​​!
THE GAME CHANGER IN THE WORLD OF REMOVALS
Let's face it, the term 'removalist' is so yesterday. Yellow Express is your moving buddy for the digital age. With just a few taps on our app, you can book a big van quicker than you can say, "How did I ever live without these guys?"​
What sets us apart from a typical removalist? Well, for starters, our "Big Vans" are massive, capable of fitting anything from a queen-sized mattress to large home appliances and even the contents of a whole studio apartment​​. And let's not forget our delivery heroes, fully trained legends in the art of Send, Move, and Deliver​​.
Jane moved two tables from Bondi to Ultimo for $99 in 43 mins
Peter moved a plasma TV from Broadway JB Hi Fi to Auburn for $149 in 85 mins
Lisa moved her studio apartment from Camperdown to Newtown for $297 in 143 mins
Chris moved a large artwork from Parramatta to Camden for $149 in 90 mins
SIT BACK, RELAX, AND LET US DO THE HEAVY LIFTING
When you choose us over a removalist, you're signing up for a moving experience that's as easy as pie. Just have your snacks and TV remote ready because that's all the lifting you have left to do​​.
From getting large items or a whole apartment from A to B to delivering literally anything, Yellow Express is the change you've been waiting for​​. With us, moving isn't a chore; it's an adventure. And it's one we're excited to embark on with you. So forget about the removalist, and say hello to an experience like no other.
Whether you're moving across the city or just across the street, our team of expert movers are ready to handle all your needs. With our fleet of over 50 vans, we have the capacity to handle any move, big or small. And it's not just about the number of vans; it's about the people driving them. Our drivers are trained professionals who handle your items with the utmost care and consideration. They're not just drivers, but your partners in making your move as smooth as possible.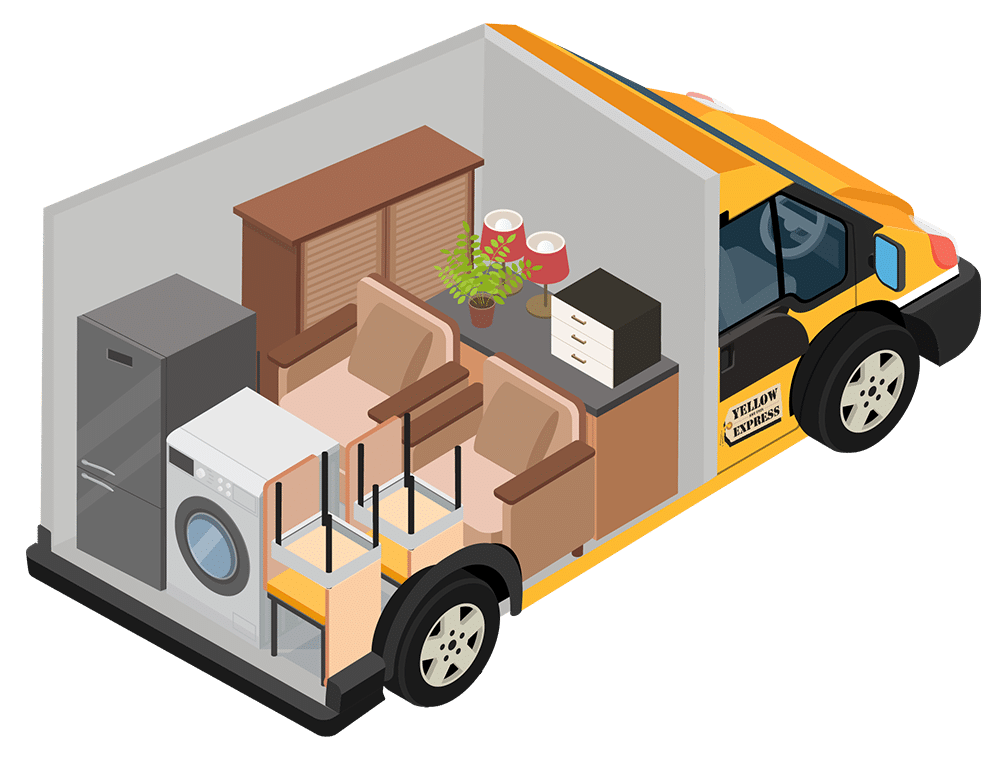 TECHNOLOGY AT YOUR FINGERTIPS
Yellow Express leverages the power of technology to make your move easier than ever before. With our easy-to-use app, booking a move is as simple as a few taps on your screen. You can track your move in real-time, providing you with the peace of mind that your belongings are in good hands and on their way to their destination.
A SERVICE YOU CAN TRUST
At Yellow Express, we're not just about moving items; we're about building trust. From the moment you book your move, to the moment your items are safely delivered, we're with you every step of the way. We pride ourselves on our transparency, professionalism, and commitment to customer satisfaction. But don't just take our word for it – our happy customers' testimonials speak for themselves.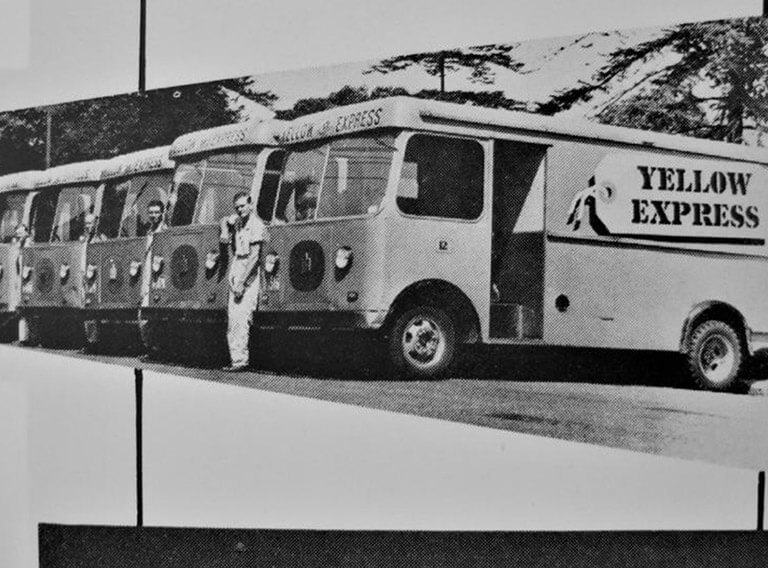 CHOOSE YELLOW EXPRESS, WHERE EVERY MOVE IS A MOVE IN THE RIGHT DIRECTION
At Yellow Express, every move is a move in the right direction. We're not just a service; we're a revolution, turning the world of moving on its head and making it a joy instead of a job. So the next time you consider a removalist, remember Yellow Express is just a tap away.