Ute Hire? Who Needs That When There's Yellow Express!
Fancy getting a ute hire and hauling it around the town? Imagine – a bright sunny day, and you're wrestling with bulky items, playing Hercules for what seems like a century. They hand you the keys: "Alright, go figure out how to pile in all your stuff like a pro weightlifter!"
But wait, Yellow Express enters the scene! Ute hire was so last decade. With us, it's all about lounging while someone else tackles the muscle work. We zoom in with a dashing pal and a gigantic vehicle, prepped to spirit your belongings away sans finger-lifting. Need it there today? Cool as a cucumber, we're on it—say goodbye to sore muscles and hello to swift, refreshing delights with Yellow Express. Catch us on the fly side!
So, wave farewell to antiquated rental loops and hitch a ride with Yellow Express (yeah, it's practically a rocket). It's quicker, smoother, and zero gym fees!
Is an urgent document or valuable package on hand? Left something behind? No worries! Yellow Express, your superior alternative to a courier in Sydney, has you covered. We'll handle your needs professionally, delivering even on the same day. Experience the thrill of rapid delivery done right by Yellow Express.
OUR VEHICLES REIGN SUPREME IN SYDNEY
Yellow Express is here to laser-blast your send, move, deliver troubles into the abyss. Got a trove of prized possessions? Gotta rocket a last-minute present around the city? Or have a top-secret document that needed to be somewhere last week? Give a holler to Yellow Express! Our squadron of over 50 stylish vehicles is patrolling Sydney, poised to sprint to your location faster than a rabbit on roller skates. We're the superheroes Sydney didn't know it needed. Ditch the ute hire. That's like racing a snail against a cheetah. Yellow Express is your saviour on wheels – morphing your logistical nightmares into silky-smooth success stories.
Why even glance at a ute hire when you could end up a flustered mess trying to lug stuff yourself? Yellow Express prowls like a pack of panthers through Sydney's streets, and our drivers? They're like ninjas making the impossible happen before you break a sweat. So, bid adieu to the ute hire fiasco and waltz through life with the electrifying grace of Yellow Express. No stress, no mess – just nimble, magical delivery wizardry. Keep it suave – choose Yellow Express!
SUPERCHARGED, SAME-DAY DELIVERY!
While those in the ute hire biz are meandering along as though they're out for a Sunday picnic, we're hitting nitrous for same-day, roller-coaster-speed delivery! Yellow Express is like the Evel Knievel of the delivery circuit! Your package? It's aboard a supersonic jet – zero time wasted! Have a harebrained request? Outlandish, quirky, or pure madness, we say, "Challenge accepted!" and soar through the air like an eagle with jet engines!
Contemplating the ute hire road? Brace yourself for an epic saga. Navigating the ute hire maze is like unwittingly joining an adventurer's guild. Drive, heave, mumble, loop. They're like a labyrinth – where's the darn ute? Is it self-pickup or delivery? Is there a sidekick, or am I lone wolfing it? The paperwork could rival a novel. Driving license, passport, credit card, and a piece of your soul, perhaps? Gear up – it's a manual, so dust off those shifting skills, champ.
No, leave the ute hire frenzy behind. Yellow Express is flooring it for the most aerodynamic, jet-set delivery around!
FAST-TRACK WITH YELLOW EXPRESS!
With traditional ute hire, you're drenched in dread before the show even begins. It's like being handed an ancient treasure map with no X marking the spot. Yellow Express? We're talkin' full-on genie-in-a-bottle magic – a flick of the wrist and voilà, your bounty's on the move. The world's still spinning, and you're lounging, locked into your favourite show.
Alright, ute hire is an option if you're aiming for a lead role in a Mission Impossible sequel – all stunts by YOU (dun dun dun!). But if you fancy cruising on a sea of tranquility, Yellow Express is the golden ticket to Easy Street.
Paul Goff
15. July, 2023.
Second time of using Yellow Express for a local pick and drop. Awesome team. Mo Number 1 was super helpful. Even helped me put my sofa in place and put it all together. Friendly team, efficient and altogether A1 with extra stars. Booked a van at 12pm and had a pick up by 1430!!
Peter George
13. July, 2023.
Another quality job from Yellow Express. No mess, no fuss, just get on with it and get it done. Very happy – I left the team a 15% tip
Abdullah Khan
6. July, 2023.
Love 😍
Rosemary Ghobril
4. July, 2023.
Yellow Express and their drivers provide excellent service. I had a wonderful and efficient driver who assisted in loading and unloading my items. They were prompt, affordable and extremely professional. I recommend Yellow Express for any of your transport needs.
I used Yellow Express to move stuff into my new apartment. Had the pleasure of working with Dean who was very easy-going. We ended up moving more than what I initially planned and he had no complaints. He was very fun to chat with and very efficient which made the move a rather enjoyable experience. Thank you Dean. To avoid disappointment, take note that the time you specify may not be the exact time that the operator will arrive. It would depend on who is near the area and how many jobs are queued. Recommend to discuss in advance with the very friendly support team if you have a strict timeline.
I recently moved out and needed assistance picking up furniture from various places, and Yellow Express was the exact solution that I needed. I was already impressed with their service through their email correspondence and phone calls, but was genuinely surprised at how friendly and supportive everyone was. Dean was my driver for both my bookings and he went above and beyond to transport my furniture goods (sofa and dining table) with care, was extremely efficient with timing and very friendly – thanks Dean! Definitely will be using Yellow Express/Dean for all the random tasks I will need moving forward 🙂
Joseph Thannheiser
27. June, 2023.
Booked a man and a van service for what I thought would be a quick two hour job… Turned out to be 5 hours total, luckily had the amazing assistance from Dean and the time just flew by!
Fiona Cummins
26. June, 2023.
Tom in the office was fantastic, he even managed same day delivery. We phoned after 1pm with delivery from inner Syd to Illawarra by 5:30pm. Ali, the driver, was so polite and helpful. Great operators, will use again and recommend them.
Donna Shenton
25. May, 2023.
After much frustration trying to find same day delivery I found Yellow Express. Made a call and spoke to Thomas who without any effort and such ease took our details and the parcel was collected and delivered as promised. I have the APP on my phone as well. Couldn't be happier. Donna
DITCH THE MAYHEM;
EMBRACE THE YELLOW STREAK!
Ever had that "Yikes!" moment when something's gotta blaze across town faster than a comet? Like dropping off that borrowed power tool or getting the mammoth 4K TV for the big game? Whatever's racing through your mind, Yellow Express is here like a caped crusader with a ute! We're more than a courier; we're the turbo-infused, send, move, deliver alchemists you've been searching for!
Jane moved two tables from Bondi to Ultimo for $99 in 43 mins
Peter moved a plasma TV from Broadway JB Hi Fi to Auburn for $149 in 85 mins
Lisa moved her studio apartment from Camperdown to Newtown for $297 in 143 mins
Chris moved a large artwork from Parramatta to Camden for $149 in 90 mins
Picture squaring up with ute hire for the same endeavour. It's you versus time, perspiration pouring, and sanity teetering. Wrangling with ute hire feels like a boxing match with a kangaroo on caffeine. Pick ute hire, and you're a one-person band. Merely imagining the twisty Sydney streets in a rental is enough to send shivers down your spine!
Why try to be the Swiss army knife of moving when Yellow Express can be your personal teleporter – zipping your treasures with panache and gusto?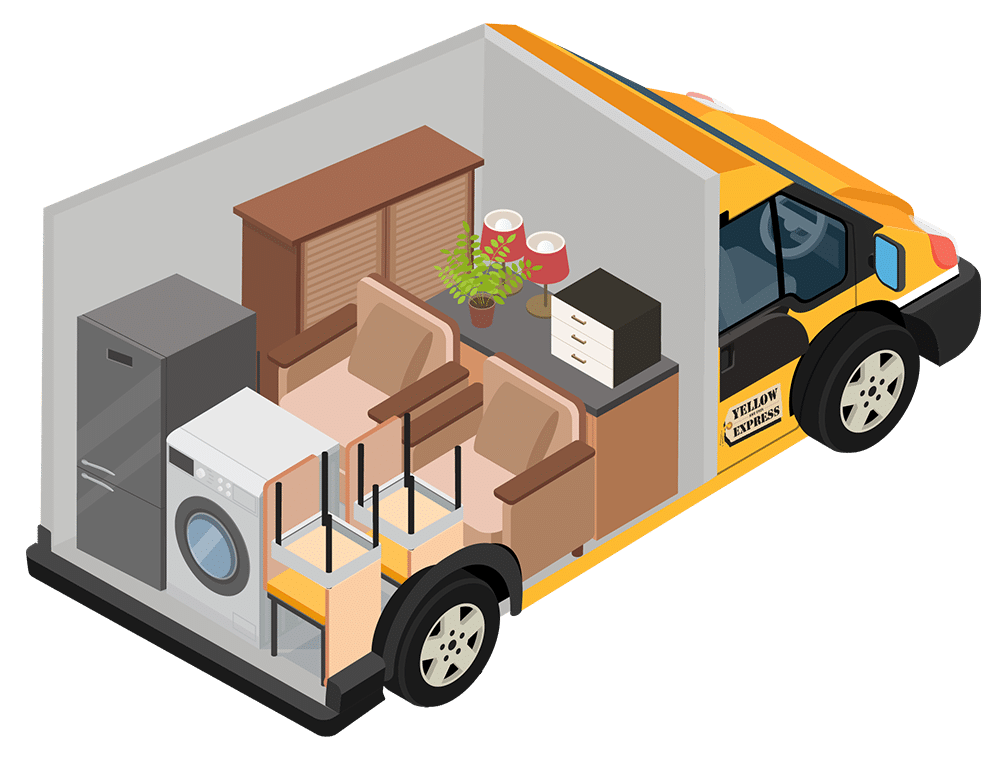 WHY PICK YELLOW EXPRESS?
Looking for a reason to grasp why Yellow Express outshines the competition in Sydney, leaving ute hire in the dust? Take a gander at our triumphant trio:
Bolt-Like Agility: Imagine The Flash behind the wheel of a colossal truck—that's us! We're nimble and swift, guaranteeing your prized possessions arrive at their destination faster than you can blink and mutter "ute hire" three times!

Masterful Adaptability: Need to transport a feather or an anvil? Versatility is our battle cry! We're geared up for any adventurous request you throw our way. While traditional ute hire may stumble, we're raring to dive headfirst into the fray!

Unbreakable Reliability: Our pledge stands tall like the code of a medieval knight—more robust than a diamond. We don't just meet expectations; we pole vault over them. With ute hire, you're hacking through dense foliage with a blade. With us, you're gliding atop the clouds.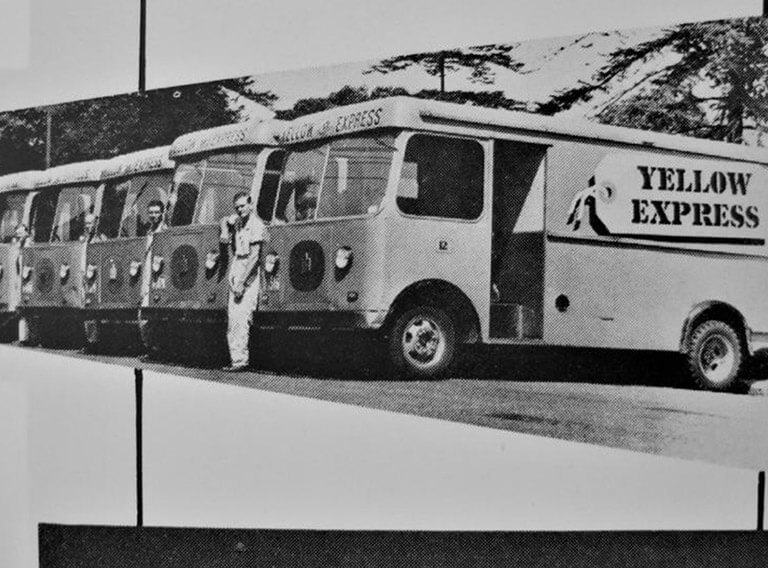 Envision ute hire as a blindfolded scavenger hunt. Yellow Express? We're the crown jewel of courier services. Our sparkling fresh methodology for catering to each client's whimsical needs transforms what could be a maze of logistics into your magic carpet ride.
Jump aboard Yellow Express, and let's weave some magic together! Give us a buzz and talk to a living, breathing human. You bet, and we're stationed right here in Australia!